Radio 2 staat dit jaar veel dichter bij Radio 538 dan in dezelfde periode vorig jaar. Dat blijkt uit de analyse die RadioFreak.nl heeft gedaan over de luistercijfers van de afgelopen twaalf periodes. Zoals ieder jaar pakte Radio 2 de koppositie tijdens de decemberperiode, en net als voorgaande jaren nam 538 die koppositie weer over.

Alleen bleef Radio 2 dit jaar veel dichterbij 538 staan dan eerder. Zelfs zo dicht, dat Radio 2 in maart weer de koppositie overnam. 538 werd de volgende periode weer marktleider, maar bleef op de hielen gezeten door Radio 2.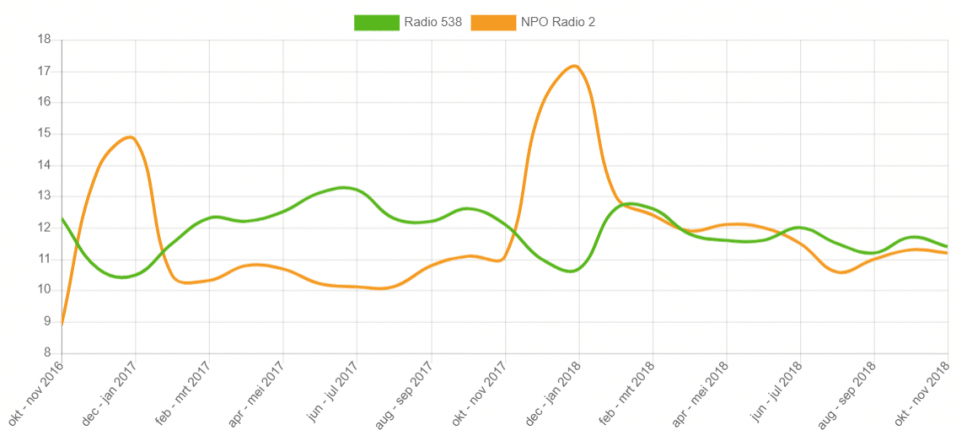 De verwachting is dat Radio 2 in januari wederom marktleider is, dankzij de Top 2000. Maar weet de publieke zender het marktleiderschap vast te houden? Door het vertrek van Edwin Evers bij Radio 538 is de vraag hoe de nieuwe ochtendshow van Frank Dane aan zal slaan, en of 538 daarmee de luisteraar voor zich weet te behouden.
'Evers Staat Op' was de ochtendshow met het hoogste marktaandeel. Het ochtendprogramma liep procentpunten voor op die van andere zenders – wat aangeeft dat Evers met kop en schouders boven de rest uitstak.
Andere radiostations hopen nu van het vertrek van de ochtendjock te profiteren. 538 verjongt vanwege het vertrek van Evers. Met Gerard Ekdom in de ochtend kan Radio 10 die 'oudere' Radio 538-luisteraar voor zich winnen.
Qmusic
Qmusic kende vorig jaar een flinke dip in de luistercijfers. Door de ruzie tussen Mattie Valk en Wietze de Jager verloor de zender veel marktaandeel. Inmiddels is het station weer bijna terug op het niveau van begin 2017. Dit jaar steeg Qmusic over een jaar met 1.3 procentpunt.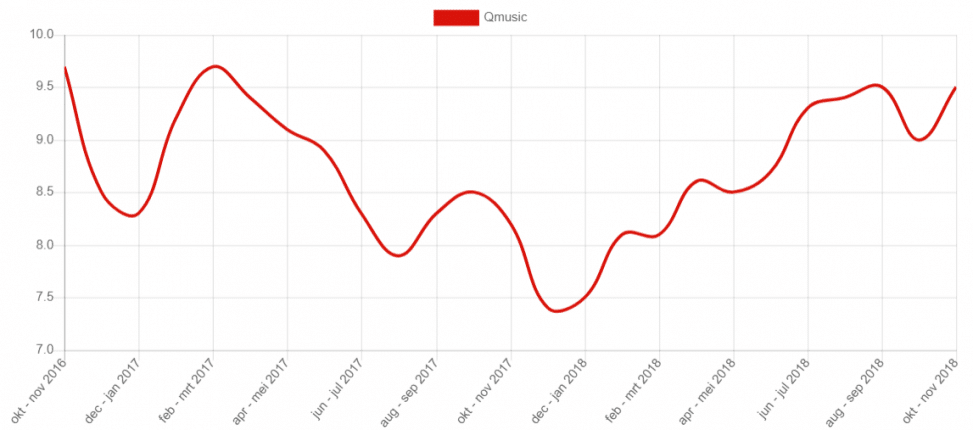 Radio 10
Radio 10 heeft de stijgende lijn uit 2017 vast weten te houden. Van oktober-november 2017 tot en met oktober-november 2018 steeg de zender van 7.3 procent naar 10.1 procent. Bij de laatste meting was Radio 10 de nummer drie van Nederland.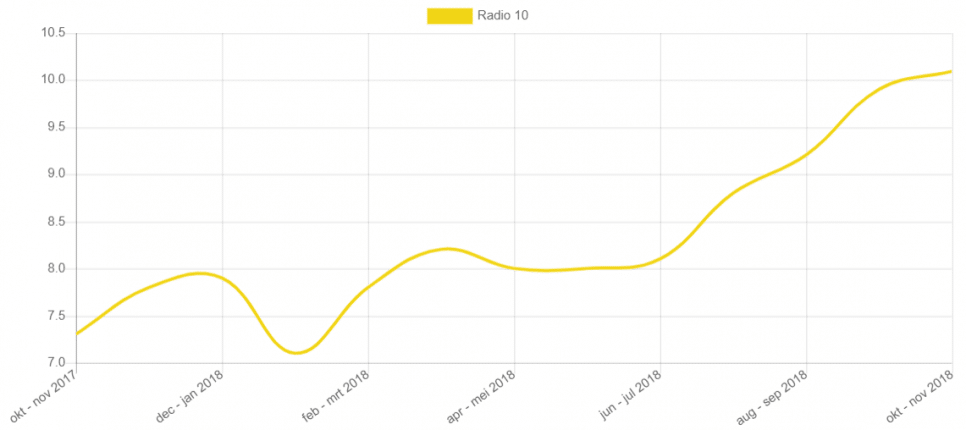 Veronica en 3FM
Radio Veronica (-1.0) en NPO 3FM (-1.3) zijn over het afgelopen jaar gezien de zenders die het meeste marktaandeel hebben verloren. Beide zenders zijn de slechtst scorende zenders binnen hun eigen groep:
NPO Radio
en
Talpa Radio
.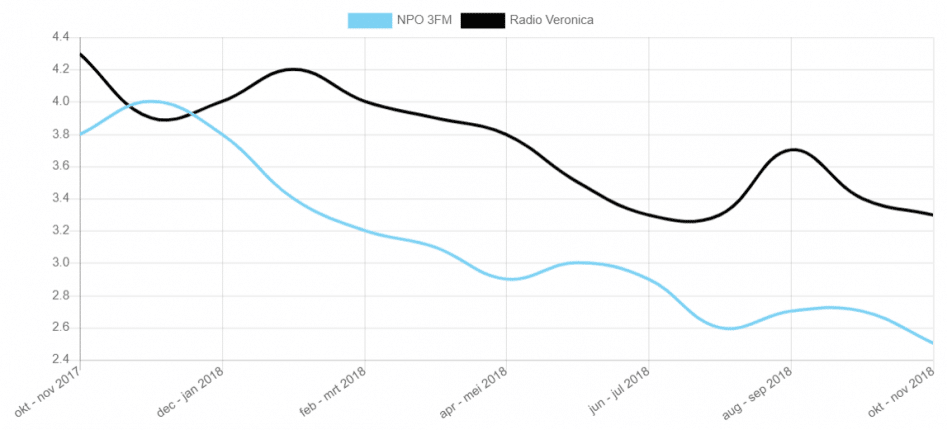 Radio 5
NPO Radio 5 heeft, zonder FM-dekking, haar marktaandeel vergroot met één procentpunt.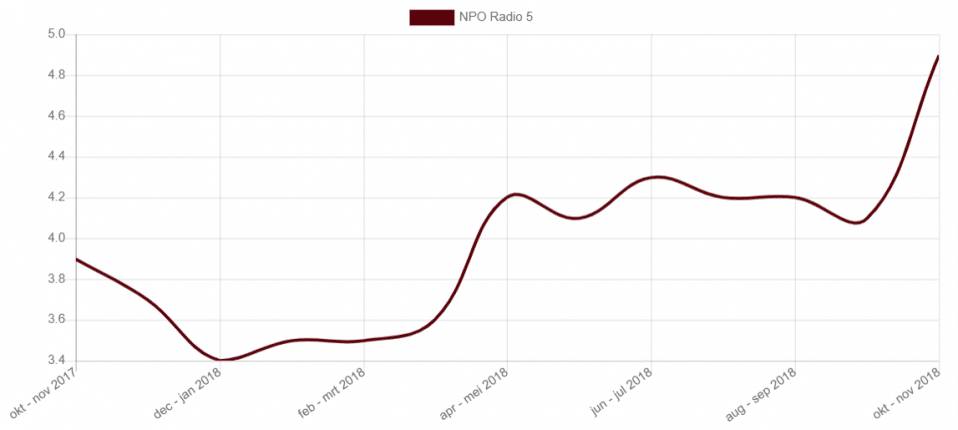 In dit artikel is gebruik gemaakt van de luistercijfers in de doelgroep 10+ gemeten over de gehele week. Er zijn vergelijkingen gemaakt met de laatste meetperiode en één of twee jaar daarvoor.
Meer luistercijfers zijn te vinden in het RadioFreak Luistercijfer-dossier.