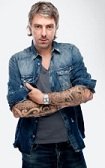 Ruud de Wild maakt vanmiddag zijn laatste uitzending op Radio 538. Gisteren maakte De Wild al een afscheidsuitzending met een locatie uitzending bij Knijn Bowling in Amsterdam. Naar eigen zeggen koos hij voor bowling omdat "ik er uit word gekegeld".
Vandaag is dan de laatste uitzending die De Wild maakt bij 538. Dit wordt een uitzending waarin hij terugblikt op zijn tijd met Radio 538.
Bij 538 moet de dj plaats maken voor de Coen & Sander Show die overkomt van 3FM naar de commerciële zender. De dj's starten in september maar er is gekozen om nu al te stoppen. Frank Dane en Jelte van der Goot nemen tot september de middag over.
Van der Goot was gisteren niet aanwezig bij de afscheidsuitzending omdat hij volgens De Wild bezig was met het voorbereiden van de nieuwe middagshow op Radio 538. Of het ook te maken had met de uitspraak die De Wild dinsdag deed over Van der Goot is onduidelijk. Hij zei toen: "Alleen met Jelte in de studio was het rustiger, maar ook saaier." Die middag was De Wild ook niet in de studio en maakte Dane en Van der Goot het programma. Tegen RTL Boulevard zei De Wild: Ik wilde graag die twee dat programma samen maken en dat Jelte niet aan mij blijft hangen.
Ruud de Wild is zijn radio-carrière gestart bij de AVRO, om vervolgens vanaf 1992 bij Radio 538 programma's als Wild in het Weekend en The Jungle te presenteren. Daarna zette hij zijn radiocarrière buiten Radio 538 voortgezet, bij 3FM en Q-music. Tot tweemaal toe keerde hij terug naar Radio 538. De afgelopen vijf jaren heeft hij het programma Ruuddewild.nl gepresenteerd en het laatste anderhalf jaar was hij als Creative Director betrokken bij de visuele identiteit van Radio 538 en SLAM!FM.
De Wild sluit niet uit bij een andere zender aan de slag te gaan. Er zijn al een aantal zenders die bij hem hebben aangeklopt.