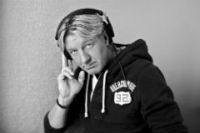 Michael Pilarczyk begon in 1987 bij Radio 10 op de kabel. Hierna maakte hij de overstap naar de publieke omroep Veronica waar hij programma's presenteerde op Radio 2 (Muziek terwijl u Werkt, Oh wat een nacht en Terug in de tijd), radio 3 (Goud van Oud) en radio 5 (Het Zwarte  Gat).
Pilarczyk was in 1992 betrokken bij de oprichting van Radio 538. Hij was ook de eerste dj die op het station te horen was. Bij 538 maakte hij verschillende programma's waaronder The Jungle (samen met Corné Klijn), Club 538 en Mikey Mike in de middag. In 1998 stopt hij bij de zender en ging zich meer richten op zijn televisiewerk.
In 2002 keert hij even terug op Yorin FM en in 2004 maakt hij een jaar lang radio bij Radio Veronica. Daarna richt hij zich weer volledig op zijn televisiewerk. Maar hoe gaat het nu met hem. Voor onze nieuwe rubriek 'Hoe is het met…' stelde RadioFreak.nl  hem een aantal vragen.
Wat doe je nu?
Ik heb inmiddels ruim 200 pagina's geschreven voor mijn eerste roman, die dit jaat gaat verschijnen. Van 2000 tot 2010 had ik een televisieproductiebedrijf, die ik heb verkocht aan Telegraaf Media Nederland. Begin 2010 ben ik met mijn boot vertrokken vanuit IJmuiden en heb twee jaar gezeild. In die tijd ben ik veel gaan schrijven. Eerst over de reis die ik maakte langs de Europese kusten, van Rusland tot Turkije en alle landen die je via de verschillende zeeën tegenkomt, daarna over een aantal opmerkelijke gebeurtenissen die ik als dj en ondernemer heb meegemaakt.
Gedurende de wintermaanden lig ik met mijn boot in Barcelona en vlieg dan geregeld voor een paar dagen naar Nederland. Zo heb ik vorige winter en de afgelopen maanden lessen gevolgd aan de Schrijversvakschool in Amsterdam, om mezelf te verdiepen in het schrijversvak, omdat het schrijven van een roman meer kwaliteiten en inzicht behoeft dan alleen talent. Het boek is een fictief verhaal, maar ik gebruik incidenten en momenten die ik heb meegemaakt in mijn periode als dj bij Veronica en radio 538 en de tijd dat ik zelf dancemuziek produceerde.
Waarom ben je niet meer op de landelijke radio te horen
Doordat ik mijn televisiebedrijf had en zelf ook tien jaar lang wekelijks RTL Autowereld presenteerde, was het niet meer mogelijk om op vaste tijden een radioprogramma te maken. En de afgelopen drie jaar ben ik vrijwel permanent in het buitenland geweest. Vorige zomer heb ik nog wel drie weken als 'vakantiebaantje' ingevallen bij 538. Dat was bijzonder leuk om te doen.
Wat was je leukste radiomoment
Eén leukste moment is natuurlijk moeilijk, maar er zijn zeker momenten die je bijblijven. Het was geweldig toen Lex Harding me vroeg om Goud van Oud te gaan presenteren bij Veronica op Radio 3. Veronica was (en is misschien wel voor eeuwig) mijn grootste radioliefde. Een mooiere naam voor een radiostation kun je niet bedenken. Het vertrek toen we startten met 538 gaf ook een dubbel gevoel. Maar de openingsavond van radio 538 was een van de meest onvergetelijke momenten. Dat ik op die vrijdagavond de eerste jock was achter de microfoon is natuurlijk het schrijven van radiogeschiedenis. Evenals het einde van dat eerste programma toen Erik de Zwart me volkomen lam achter de mengtafel heeft weggesleept. En de duoshow die ik een keer met Robbie Williams deed tijdens Mikey Mike in de middag, was ook een onvergetelijke ervaring.
Is er een kans dat we je weer landelijk gaan horen?
Ik ben weer beschikbaar en ik heb best zin om radio te gaan maken. De gedachte speelt althans alweer een tijdje in mijn hoofd. Ik zou graag een goeie ochtendshow doen, of 's nachts lekker off the record draaien met mooie verhalen. Sinds een tijdje heb ik een nieuwe studio op mijn zolderkamertje gebouwd en de komende tijd wil ik in elk geval weer veel gaan inspreken. Ik doe alweer wat voice-overs voor SBS en voor RTL. Maar ook iets als stationvoice spreekt me aan. Het is dus niet onwaarschijnlijk dat ik dit jaar weer eens ergens te horen ben.
Naar welke dj en welk station luister je nu graag?
Als ik in Spanje ben luister ik naar MaximaFM en FlaixFM, vooral Flaix is een fantastisch station met de nieuwste dancemuziek. In Nederland heb ik veel Slam!FM aanstaan en BNR, maar in de ochtend meestal toch Evers en ik luister geregeld naar mijn vrienden bij Veronica, maar ik switch net zo makkelijk naar 3FM. Eigenlijk luister ik ze allemaal door elkaar, hangt van het moment af, welke muziek er gedraaid wordt en wie er presenteert.
Heeft de radio nog toekomst?
Zeker! Ik denk dat radio meer toekomst heeft dan televisie in de huidige vorm. Televisie wordt steeds meer on demand en uitgesteld kijken, en online (youtube) trekt steeds meer kijkers weg bij televisie. Ik merk dat jonge mensen meer online kijken en minder en minder via televisie. En logisch, want je kunt zelf kiezen wat en wanneer, dat was ook het model van mijn eerste bedrijf Futuractive in 1999.
Ik heb bijvoorbeeld Nothing but the Beat van David Guetta al driemaal online bekeken en meer van dat soort docu's doen het goed via internet. Radio heeft natuurlijk concurrentie van iTunes en Spotiy wat muziek betreft, maar voor actualiteiten en personalities, de toegevoegde waarde, stem je toch af op radio. En of je dan via FM of online luistert, maakt niet uit. Hoewel ik denk dat de distributie uiteindelijk voor een meerderheid via online (mobiel) zal gaan (ik luister vaak KXradio – het bewijs), zeker als we wifi in de auto krijgen. In de auto blijft radio toch zijn eeuwige waarde behouden.
Tot slot kun je nog iets meer over je boek vertellen
De hoofdpersoon in het verhaal is een ventje dat maar één droom heeft en dat is een wereldberoemde house dj worden. Binnen een paar jaar staan zijn platen overal op 1 in de dancelijsten en treedt hij op in de grootste clubs in Europa. Hij verdient zakken met geld en trouwt met de beeldschone liefde van zijn leven. Zijn turbulente bestaan is een aaneenschakeling van succes, totdat blijkt dat zijn vrouw lijdt aan een dodelijke ziekte, waardoor hun spookjesbestaan snel tot een einde komt. Daarna verliest de gevierde dj ook nog eens al zijn geld op de aandelenbeurs en blijft hij een enkele keer buitenshuis slapen.
Om zijn financiele Waterloo te overwinnen start hij een mediabedrijf, dat hij binnen afzienbare tijd voor 70 miljoen weet te verkopen, alleen kets die deal op het allerlaatste moment af door de grootheidswaanzin die speelde tijdens de internetbubble. Tot overmaat van ramp belt in een onbewaakt ogenblik een jeugdvriendin op met de mededeling dat ze zwanger is … De rode draad in het verhaal is de dj met zijn muziekbusiness, verweven door de romances met zijn verschillende vrouwen.
Voortaan elke vrijdag op RadioFreak het antwoord op de vraag 'Hoe is het met', heb je een suggestie wie we moeten interviewen geef het hier door.