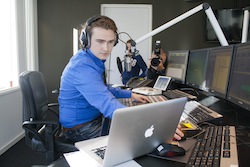 "Elk jaar willen we tenminste één nieuwe programmamaker vinden die aan de slag gaat op 538 of Slam!FM", zegt Florent Luyckx, directeur content van de 538 Groep.
De afgelopen maanden is er bij het grootste radiobedrijf van Nederland druk gewerkt aan opzetten van een nieuw traject om talent te gaan ontwikkelen: NuTalent. De reden is simpel: "Als marktleider moet je investeren in talentontwikkeling. We investeren daarmee namelijk in onze eigen toekomst."
Aan het eind van het najaar start het traject officieel. Maximaal 4 dj's gaan aan de slag binnen het traject en gaan radio maken op het digitale kanaal 538 Hitzone. Ze gaan steeds voor periodes van drie maanden aan de slag onder begeleiding van een team professionals.
Jens Timmermans
En zo'n team van professionals heeft natuurlijk een leider nodig. Jens Timmermans ruilde in september zijn dagelijkse programma in voor de zondagochtendshow, om daarnaast manager te worden van NuTalent.
"Het werd me gevraagd omdat 538 met de komst van Frank Dane eigenlijk een dj teveel had en ik was wel toe aan een nieuwe uitdaging na vijf jaar 'Greatest Hits' te hebben gepresenteerd", vertelt hij. "Uiteindelijk zou ik wel door willen groeien naar programmaleider of contentdirecteur of ik zou in het buitenland een station willen voorzien van kennis en info. Dit is natuurlijk een fantastisch plek om heel veel te leren van het management."
Strak programma maken
En dingen leren doet hij door jong talent wat te leren. Om precies te zijn: "Een strak programma maken, maar daarbinnen wel een personality zijn. Je creativiteit wordt namelijk pas echt op de proef gesteld als je beperkt de ruimte krijgt."
En juist op die manier kun je volgens Jens het beste uit talent halen. "Neem Ruud de Wild. Die is op zijn best bij 538, omdat hij regels nodig heeft, een soort plafond om soms met zijn hoofd door heen te stoten. En dat willen de talenten ook bieden, iets wat bij een lokale omroep vaak niet gebeurt. We willen ze het maximale uit zichzelf laten halen binnen onze organisatie."
Talentendag
Als kick-off van NuTalent organiseerde de 538 Groep afgelopen zaterdag een talentendag. Twintig radiomakers kregen, op basis van een ingestuurde demo, de kans om als één van de eerst rond te mogen kijken in het nieuwe pand van het radiobedrijf aan de Bergweg in Hilversum, waar op dat moment nog volop verbouwd werd.
Het ging om een gemengd gezelschap van jongens en meisjes tussen 14 en 33, waarvan de ene meer ervaring had dan de andere. Eén van de talenten die was uitgenodigd was Deniz Alkac. De 17-jarige dj mocht afgelopen zomer al een paar keer proefdraaien in de nacht op Slam!FM, maar is niet automatisch toegelaten tot NuTalent. Daarvoor heeft hij gewoon weer een demo moeten opsturen en deed hij mee aan de talentendag.
Zijn motto is duidelijk: "Ik zie wel wat er gebeurd, ik wil het gewoon leuk hebben." Maar uiteindelijk zou toch wel erg graag bij 538 terecht komen, of bij 3FM. Slam!FM, waar hij het al een keer mocht proberen, past toch minder goed bij hem. "Ik kan me er wel in inleven, maar 538 en 3FM staan dichter bij mij."
Rondleiding
Deniz en de andere talenten kregen een rondleiding door het pand met onder meer zes uitzendstudio's (waarvan vier nog in aanbouw), negen productiestudio's en een televisiestudio. Daarnaast kregen ze een workshop van 538-vormgever Chris Hartgers. Hij liet horen wat het verschil is tussen de ontknoping van de 53J8 met en zonder vormgeving. Ook mochten de talenten een promo inspreken.
Dave Minneboo en Menno de Boer, de programmadirecteurs van 538 en Slam!FM, vertelden de groep enthousiast over hun vak. Zo zette Menno uiteen dat je als programmadirecteur moeten houden van pr/promotie, nieuws, online/social, muziek, marketing, jong talent en het allerbelangrijkste: luisteraars! Dave legde onder meer uit hoe playlist worden samengesteld en hoe muziekonderzoek werkt. Ook kregen de radiomakers inzicht in hoe zogeheten non-spot acties samen met partners worden opgezet.
Demo
Het hoogtepunt van de dag was voor de talenten het maken van een demo. Ze kregen de opdracht om een TOTH strak in te spreken, Adele af te kondigen met wat informatie over haar en om een actie te teasen. In de backup-studio van Radio 10 Gold mochten ze de demo opnemen. Klein detail: de talenten hadden Edwin Evers en Ivo van Breukelen of Ruud de Wild en Daniël Lippens tegenover zich zitten om achteraf te horen wat die er van vonden.
Heel erg spannend natuurlijk. "Aan de ene kant dwingt het je te presteren, maar aan de andere kant word je ook wel weer nerveuzer van", zei Hielke Boersma achteraf. Hij deed mee aan de talentendag, nadat hij eerder al deelnemers was van het Q-College van Q-music. "Q was ook leuk en of dit leuker gaat worden is afhankelijk van of ik geselecteerd word voor de opleiding."
Telefoontje
Na een intensieve dag gingen de talenten met een tevreden gevoel naar huis. Het wachten is nu op het verlossende telefoontje van Jens. Aan het eind van het jaar gaan de eerste talenten namelijk aan de slag op het digitale station 538 Hitzone. Dat ze niet direct in de ether aan de slag gaan, is een groot voordeel, vindt Jens. "Je bent niet aan het hobbyen op 's lands grootste radiozender. Wij kunnen geen schade oplopen en iemand kan gewoon op zijn bek gaan, zodat hij uiteindelijk beter kan worden. En ik denk dat dat iets is wat ik zelf ooit gemist heb."