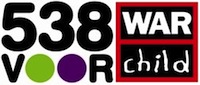 Met nog tweeënhalve week te gaan tot de start van de actieweek 538 voor War Child. Heeft 538 de veiling voor de actieweek alvast geopend. Via 538voorwarchild.nl/marktplaats kan geboden worden op bijvoorbeeld een Arriva-trein die vijftien jaar lang jouw naam draagt, een door alle spelers van het Nederlands elftal gesigneerd voetbalshirt en een dag achter de schermen bij de opnames van de populaire tv-serie Penoza III,
In iedere gemeente staat naast de 538Studiotruck ook de 538Talentstage, speciaal voor talenten die hun 'five minutes of fame' willen pakken. Voor € 12,- euro per persoon kan iedereen in vijf minuten zijn of haar talent op dit open podium laten zien. Dit kan van alles zijn: streetdance, stand-up comedy, beatboxen, jongleren of optreden met een band. Het 538 voor War Child videoteam maakt een videoregistratie van de optredens, die daarna is terug te zien op de actiewebsite.
Daarnaast is het voor iedereen mogelijk om zelf een actie aan te melden. Van gesponsorde sportactiviteiten, tot het ophalen van lege flessen voor War Child. Bedrijven kunnen bijvoorbeeld hun activiteiten inzetten om geld op te halen voor de actieweek. Scholen en leerlingen die actie voeren maken zelfs kans op hele bijzondere prijzen. De opbrengst gaat volledig naar 538 voor War Child.

De actie week is van 22 tot en met 29 maart 2013 en de opbrengst gaat naar verlaten oorlogskinderen.