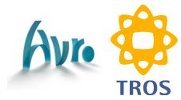 De Tros wil niet vrijwillig fuseren met de Avro. Dit zegt Tros-directeur Peter Kuipers in de Volkskrant. Dit doen ze als de NPO doorgaat met de plannen om vanaf 2014 minder ruimte vrij te maken voor amusement en human interest op de publieke zenders.
Tros-directeur Peter Kuipers zinspeelt op het stuklopen van het complete fusieproces: "Als wij niet vrijwillig meegaan, worden de fusies vanuit Den Haag verplicht en ligt alles weer open." De omroep dreigt volgens de Tros-baas 'het kind van de rekening' te worden in het nieuwe prioriteitenbeleid van de NPO, waarmee er voortaan wordt gefocust op journalistiek, drama, documentaires, kinderen, kennis en cultuur.
Volgens Kuipers mist er een duidelijke visie. "Want het gaat ons niet alleen om het amusement, de Tros is meer dan dat. Kijk naar EenVandaag, Kamerbreed en Radar. Hagoort heeft ook al gezegd dat we ons geen zorgen moeten maken omdat 80 procent van onze programma's vast wel een plek zal krijgen, ook in de nieuwe schema's. Maar het gaat ons erom of je een publieke omroep wilt blijven voor 17 miljoen mensen, of dat je – door nu al veel te fors te bezuinigen – een publieke omroep voor de elite wordt."