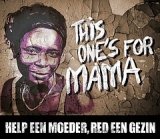 Het Rode Kruis heeft sinds december 2011 160.000 vrouwen en kinderen die slachtoffer zijn van oorlog en conflict, kunnen helpen dankzij de inzamelingsactie 3FM Serious Request 2011. Dit maakte dj Giel Beelen zojuist op 3FM bekend. Het Rode Kruis presenteert vandaag de eerste fase van de verantwoording voor de besteding van het ingezamelde geld van 3FM Serious Request 2011.
In december vorig jaar voerden dj's Gerard Ekdom, Coen Swijnenberg en Timur Perlin vanuit het Glazen Huis in Leiden met 3FM Serious Request actie voor moeders die vechten tegen de gevolgen van oorlog. Hierbij werd een record geldbedrag van 8.621.004 euro opgehaald. Dit bedrag liep na de actie zelfs nog verder op tot een totaal bedrag van € 8.893.974, -.
"We zijn blij met de brede aandacht voor de problematiek van moeders in conflictgebieden en de tot nu toe al geboekte resultaten", zegt 3FM zendermanager Wilbert Mutsaers. "In korte tijd is het Rode Kruis in staat geweest om heel veel mensen te helpen die veel of alles kwijt raakten door oorlog of conflicten. Het grote bedrag dat tijdens 3FM Serious Request is ingezameld gaat volledig naar het Rode Kruis en komt bijzonder snel en goed ter plaatse. Dat is de kracht van Het Rode Kruis. Een groot compliment ook voor de Nederlandse bevolking die de actie vorig jaar massaal een warm hart heeft toegedragen"
Op dinsdag 13 november maakt 3FM de drie dj's bekend die vanaf 18 december 6 dagen niet eten en voor een donatie muziek draaien vanuit het Glazen Huis in Enschede. De stille ramp die in 2012 centraal staat bij 3FM Serious Request is de wereldwijde babysterfte.