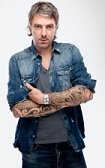 "Vrouwen zijn minder leuk op de radio dan mannen." Dat zegt Ruud de Wild tegen de Telegraaf. "Dat klopt helemaal, helaas. Dat heeft op één of ander manier ook met Nederland te maken. In Engeland heb ik een paar vrouwen gehoord die echt waanzinnig goed waren. De taal, de snelheid, alles klopte. Hier moeten vrouwen die op de radio willen excelleren meteen weer zo n pot worden. Zo'n kerel, sorry dat ik het zeg."
"Ik snap het wel, want de radiowereld is een keiharde, uiterst competitieve en seksistische wereld. Kijk, mij kun je nergens meer mee raken. Je kunt alles tegen me zeggen, of over me zeggen, maar ik heb alles al gehoord en het doet me niks meer. Maar omdat het een harde wereld is, moet je als vrouw hard zijn om daarbinnen te overleven. Jammer, ik vind het namelijk heerlijk als een vrouw gek doet, of grof. Ik ben zelf getrouwd met iemand die heel grof kan zijn, en daar kan ik juist om lachen omdat ze zo mooi is, en zo slim."
Ook zichzelf spaart hij niet in het gesprek met de krant. Hij ziet zichzelf niet als de beste dj van Nederland. "Ik zal nooit de nummer 1 van de radio worden, dat is Edwin Evers. Hij is gewoon de beste: voor 100% een radioman. De typetjes die hij doet, hoe hij de ochtend vult, alles." Wel geeft De Wild aan dat er een groot verschil bestaat tussen de dj's. "Kijk, Willem Holleeder live in de uitzending kan in mijn programma gebeuren, maar niet zo snel bij Edwin. Misschien is het soms wat spannender bij mij. Maar mensen zouden gek van me worden in de ochtend, ik ben veel te druk."
"Nummer twee zijn is vaak toch cooler dan nummer 1. Je kan het met bandjes vergelijken: The Rolling Stones golden heel lang als de beste ter wereld, maar U2 was veel gaver. Als de nummer 2 is er veel meer te winnen en ik denk dat je lui wordt als je nummer 1 bent."