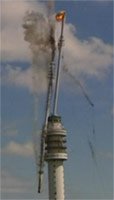 De radiostations die antennes hebben staan op de zendmast in IJsselstein (bij Lopik) en Hoogersmilde zijn slecht of niet te ontvangen. In de zendmast in IJsselstein is brand en kortsluiting geweest. In de zendmast in Hoogersmilde is op 180 meter hoogte brand uitgebroken. Even na 15:30 uur is het bovenste deel, de stalen constructie, van de Drentse toren ingestort.
IJsselstein
Ook in de zendmast in Lopik was vanochtend kort brand, na kortsluiting. De zendapparatuur in de zendmast is tot nader order uitgeschakeld, nadat een deel van de mast in Hoogersmilde instortte. Het uitschakelen van de zenders is voor de brandweer noodzakelijk om brandinspectie uit te kunnen voeren. Onder andere Radio 1, Radio 2, 3FM, Radio 4, Q-music en BNR Nieuwsradio zijn daardoor minder goed te ontvangen.
De brand woedde volgens RTV Utrecht in de top van de toren en zou door zuurstofgebrek vanzelf weer zijn gedoofd. In de schacht van de toren is giftige rook blijven hangen. De brandweer mag om veiligheidsredenen niet de toren in. De toren moet daarom op natuurlijke wijze ventileren. Het kan nog wel tot na het weekend duren voor de rook is verdwenen.
Radio 1 is als nieuwszender sinds 17:00 uur op 747 AM te ontvangen. Volgens zenderoperator Broadcast Partners zit nu zo'n 80 procent van Nederland zonder radio.
Hoogersmilde
De brand in Hoogersmilde zat in het bovenste deel van de toren. Vanuit daar worden alle FM-zenders en Digitenne van KPN uitgezonden. De brandweer was net samen met de politie bezig een aantal woningen die in een straal van 300 meter rond de mast stonden, te ontruimen. Zendmastbeheerder NOVEC bekijkt op dit moment of er een verband zit tussen de branden in de twee zendmasten.
Er gaan geruchten dat de mast in Smilde oververhit is geraakt, omdat de zenders de capaciteit van de zenders IJsselstein moesten opvangen. De brand in IJsselstein was vanochtend al, de brand in Hoogersmilde brak uit rond het middaguur.
De zendmast in Hoogersmilde is 294 meter hoog en werd in 1959 opgeleverd.