De RadioFreak Awards worden bijna uitgereikt. Dit weekend is de laatste kans om te stemmen op de beste nieuwslezer, het beste nachtprogramma, de beste audiovormgeving, de beste verslaggever, de beste marketing en de beste producer/redacteur. Met de RadioFreak Awards wil RadioFreak.nl de mensen die achter de schermen veel doen in het zonnetje zetten.
De programmaleiders/zendermanagers van de landelijke radiostations in Nederland mochten per categorie één persoon of radiostation nomineren. Met als voorwaarde dat dit geen mensen van de eigen radiozender mochten zijn. Na alle inzendingen van de zenderbazen is per categorie een top 3 samengesteld met de meest genoemde namen. Onder andere nieuwslezer Carmen Verheul (Radio 2), verslaggever Jack van Gelder (Radio 1) en producer Jelte van der Goot (Radio 538) zijn genomineerd.
Zondagavond om 23:59 uur sluit de stembus en wordt de eindstand opgemaakt. In een aantal categorieën is de stemming nog niet beslist en kunnen een paar stemmen het verschil maken. Door te stemmen maken je kans op een DAB+­radio of het boek '50 jaar 3FM'. De prijzen zijn beschikbaar gesteld door FC Klap en radiowinkel.com.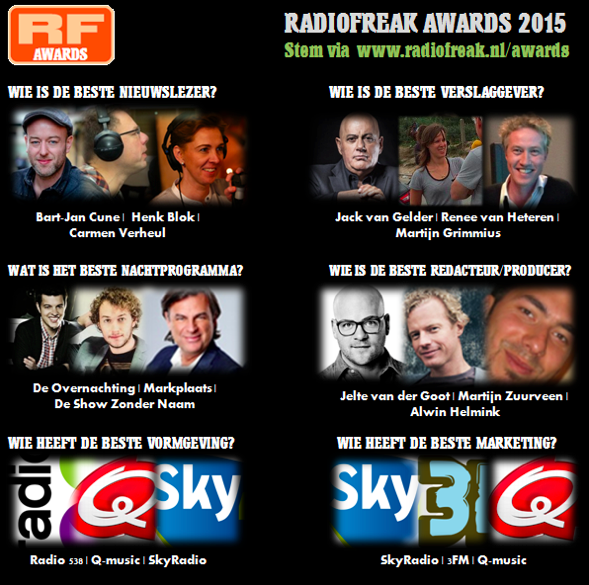 Om alle genomineerden te bekijken en te stemmen kun je terecht op www.radiofreak.nl/awards