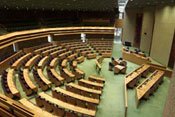 Staatssecretaris Van Leeuwen van Onderwijs, Cultuur en Wetenschappen gaat onderzoeken of het mogelijk is om de eis dat er overdag in de Nederlandse taal moet worden gesproken in de geclausuleerde (met eisen aan de programmering) pakketten en de regionale pakketten, te schrappen. Dit na opmerkingen hierover van onder andere D66. Staatssecretaris Wijn van Economische zaken zal daarbij nog onderzoeken of het mogelijk is dat de regionale frequenties ook los kunnen worden verdeeld. Nu zijn deze frequenties in clusturs opgenomen die tot 30% dekking van Nederland kunnen leiden. GroenLinks en de PvdA op aangedrongen maakte de kantekening dat deze dekking veel te groot is en dat het regionale karakter dan wel verloren kan gaan. Verder zei hij te overwegen de marktpartijen een vergunning voor 8 jaar en 3 maanden te willen geven vanaf 1 juni aanstaande, in plaats van 8 jaar. Dit om de partijen 3 maanden kans te geven over te schakelen naar het nieuwe frequentiepakket, maar toch netto 8 jaar uit te kunnen zenden op de vergunning. Dit omdat de Staatssecretaris verwacht dat de volledige omschakeling op 1 juni niet gehaald zal worden.
De leden van de Tweede Kamer commissies voor Onderwijs, Cultuur en Wetenschappen en Economische Zaken van de Tweede Kamer hebben vanavond in 'algemeen overleg' met de Staatssecretarissen van Onderwijs, Cultuur en Wetenschappen (Van Leeuwen) en Economische Zaken (Wijn) over de verdeling van radiofrequenties gesproken. Alle partijen hebben in het overleg hun zegje gedaan over het plan dat de regering heeft gepresenteert over hoe de frequenties verdeeld moeten gaan worden. En ook het advies van de Commissie Francken kwam aan bod.
De politieke partijen waren het in grote lijnen met elkaar eens. Alleen GroenLinks stelt dat het toch een puinhoop is, en dat de Staatssecretarissen maar moeten zorgen dat het goed gaat. "Als de heren van de commerciële zenders voor de rechter staan als het fout gaat, dan moet u zich maar verdedigen. Dat is onze grote zorg. Maar een kamermeerderheid wil het nu zo, dus ok. Wij weten u te vinden als het fout gaat", aldus Dhr. Vendrik van GroenLinks.
De overige partijen zeggen vooral dat snelheid geboden is. "Snelheid in deze soap is belangrijker dan een 100% perfecte uitvoering. Het is een schande voor Den Haag dat de rechter ertussen heeft moeten komen", zo stelde Dhr. Heemskerk names de PvdA.
Bijna allemaal zijn ze het eens over het feit dat er een pakket moet komen voor multiculturele radio. Daarvoor zal een ander pakket moeten wijken. Tweede Kamer-lid Vendrik van GroenLinks liet wel weten dat dit voor een pakket moet gelden die vooral in de Randstad te ontvangen is. "Limburg hoort daar bijvoorbeeld niet bij. Daar probeer ik mijn hele leven al weg te blijven", aldus een sarcastische Vendrik. D66 vindt als enige niet dat er een 'Multi-culti' pakket moet komen, omdat de Publieke Omroep in die muzieksoort voldoende kan voorzien. Staatssecretaris Van Leeuwen is toch niet van plan dit te doen. Hij stipt aan dat er al een commerciële multiculturele zender actief is in de Randstad. "'FunX' zal binnenkort in alle vier de grote steden uitzenden, en doet dat nu al in Rotterdam en Den Haag. Daarnaast zijn er ook nog regionale multiculturele zenders", aldus Van Leeuwen.
Daarnaast is de tijd tussen de uitkomst van de vergelijkende toets (23 mei) en de datum waarop de rechter heeft vastgesteld dat alles moet draaien (1 juni) veel te kort. "In 8 dagen moet er gekocht en uitgezonden gaan worden, terwijl we met een slakkengang de rest geregeld hebben", zegt Dhr. Van den Brink van de LPF.
Verder zette alle partijen hun vraagtekens bij de voortslepende ruzie tussen de zenderbouwers Nozema en Broadcast Partners. Nozema liet vandaag nog een persbericht uitgaan met daarin de melding dat Staatssecretaris Wijn zich daarover geen zorgen hoefde te maken. De Staatssecretaris liet vanavond in het overleg weten het "een vervelend opgesteld persbericht" te vinden, maar het wel eens te zijn met het bericht. Nozema heeft inmiddels verregaande toezeggingen gedaan om de samenwerking met Broadcast Partners te verbeteren.
PvdA, D66 en LPF pleiten ervoor Nozema op te splitsen in één bedrijf dat de zendmasten beheert en een tweede bedrijf, dat net als Broadcast Partners zorgt voor de vereiste technische aanpassingen. Het bedrijf dat de zendmasten beheert zou dan verplicht moeten worden toegang te bieden tot meerdere technische bedrijven, zoals Broadcast Partners.
CDA en VVD zijn daar niet principieel tegen, maar vragen zich nog af of die stap nu al gezet moet worden. Volgens staatssecretaris Wijn van Economische Zaken is splitsing niet eenvoudig. De staat bezit 59 procent van de aandelen in Nozema, maar voor opsplitsing is ook medewerking van de andere aandeelhouders (NOS met 40 procent en Wereldomroep met 1 procent) van belang.
VVD'er Dhr. Blok vroeg nog of het niet mogelijk was om de eis dat er nieuwsblokken op de regionale en AM zenders moet zijn te laten vervallen. Dit omdat regionale zenders al een kleine markt hebben en de AM-frequenties over het algemeen al minder geld in het laatje brengen, en nieuws toch duur is. Staatssecretaris Van Leeuwen achtte dat niet wenselijk. "Nieuws is een belangrijk iets. Dat willen we dus zo laten", liet de bewindsman weten.
Vragen van de parlementariërs die nog bleven liggen, zullen de beide Staatssecretarissen schriftelijk beantwoorden. In april brengen de bewindslieden dan weer verslag uit in de Tweede Kamer. Het zal dan ook voornamelijk gaan over de kwestie tussen Nozema en Broadcast Partners.
(Eerste bericht: 20:18 uur)