De drie 3FM-dj's die in het Glazen Huis in Den Haag zaten hebben 5.249.466 euro opgehaald voor een betere drinkwatervoorziening in de wereld. Dat is inclusief de verdubbeling van het bedrag door de regering. Michiel Veenstra, Rob Stenders en Gerard Ekdom zaten vanaf woensdagochtend in het huis om op die manier geld op te halen voor het Rode Kruis. Zojuist kwamen ze eruit.
"Wauw, een verdubbeling!", gooide Gerard Ekdom eruit. "Dit is echt geweldig!", voegde Michiel Veenstra toe.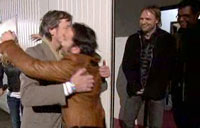 Vorig jaar stond er 2.648.495 euro op de teller en in 2005 2.203.549 euro toen de dj's het huis verlieten. Overigens is het bedrag van dit jaar nog niet compleet. In februari zal alles definitief opgeteld zijn. Twee jaar geleden kwam er toen nog ruim 45.000 euro bij.
Studio Brussel haalde met 'Music for live' 3.353.568 euro op. De Vlaamse regering schonk daar drie ton van. De federale Belgische regering had al eerder beloofd een miljoen euro bij te dragen. Het Franstalige radiostation Couleur 3 in Zwitserland haalde 252.000 Zwitserse francs op, wat 151.218 euro is. De actie was daar wel wat kleiner. Er werd namelijk niets geveild en de dj's moesten het vooral doen met requestplaten.
De actie in Nederland, België en Zwitserland heeft dus in totaal 8.754.252 euro opgebracht. Het volledige bedrag gaat naar het Rode Kruis. Die legt waterpompen en rioleringen aan op plekken in de wereld waar er geen schoon water is, voorziet in materialen om water mee te zuiveren, beschermt putten tegen vervuiling en maakt sanitaire voorzieningen toegankelijk. De organisatie geeft ook voorlichting over hygiëne en gezondheid.
Voor veel publiek op Het Plein kwam eerst Coen Swijnenberg terug van zijn tocht langs de Glazen Huizen in Europa. Afgelopen woensdag ging hij met 15 liter water op weg. Voor iedere liter die hij vandaag mee terug nam, liet hij zich sponsoren door luisteraars. In totaal hebben 3806 3FM luisteraars Coen gesteund in zijn tocht langs de Glazen Huizen in Leuven en Genève. Dat leverde in totaal 53.284 euro op. Coen deed zijn tocht liftend.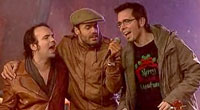 Daarna traden Leaf, The Opposites en Alain Clark (foto) op en verzorgde Eddy Zoëy een veilig. Verschillende items die gedurende de week zijn binnengebracht en het meubilair van het huis werden live op Het Plein geveild.
Elk jaar ontwikkelt zich een single tot een hit tijdens 3FM Serious Request. Dit jaar is dit Let's Dance To Joy Division van The Wombats. Vorig jaar waren de The Fratellis met Chelsea Dagger favoriet, in 2005 was dat Multiply van Jamie Lidell. In 2004 werd door de drie dj's Galvanize van de Chemical Brothers plat gedraaid tijdens de actie.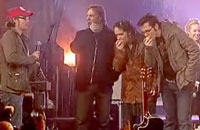 Rond half acht kwamen de dj's het huis uit, begeleid door zendercoördinator Florent Luyckx van 3FM. Na uitgebreid met hun vrouwen en vriendinnen gezoend te hebben stonden de dj's na een tocht door het publiek op het podium om de eerste hap in een appel te zetten (foto).