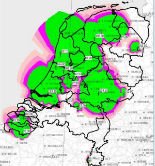 Het is niet meer mogelijk om te bieden op de commerciële FM-kavels A7, B38 en AM-kavel C08. Vanmiddag om 14:00 werd de bieding gesloten. Wie er hebben geboden is niet bekend. Het Agentschap Telecom komt er morgen mee naar buiten, laat het weten aan RadioFreak.nl.
Tot nu toe is alleen bekend dat een bedrijf uit Soest investeerders zocht om te bieden op het landelijke kavel A7. Of er ook een bod uitgebracht is, is onbekend. Op Facebook geeft Pinguin Radio aan een bod te hebben gedaan, van 1 euro.
Er zijn geruchten dat uitgever Sanoma, ook eigenaar van tv-zender SBS, interesse had in kavel A7. Maar dat wil het bedrijf niet bevestigen. "We hebben contact gehad met de betreffende afdeling, maar we kunnen hier helaas geen uitspraken over doen", laat een woordvoerderster weten aan RadioFreak.nl.
Eerder gaf radio-ondernemer Ruud Poeze ook al aan te willen bieden om een sportzender te starten op het kavel. Of hij daadwerkelijk geboden heeft, wil hij niet zeggen.
Na de veiling moeten de kavels zo snel mogelijk on air. De vergunning loopt tot 31 augustus 2017. Het kavel voor een commercieel radiostation wordt al sinds 2009 niet meer gebruikt. Toen werd de vergunning van Arrow Classic Rock ingetrokken. In 2011 lukte het niet om het kavel te verdelen.