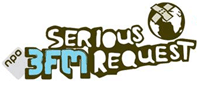 Verschillende partijen in de gemeente Nissewaard willen proberen het Glazen Huis van 3FM in 2016 of 2017 naar Spijkenisse te krijgen. Volgens de PvdA zou 3FM Serious Request goed zijn voor de naamsbekendheid van de nieuwe fusiegemeente, zo meldt RTV Rijnmond.
PvdA-fractievoorzitter Wouter Struijk denkt dat het Glazen Huis de gemeente een boost geeft. "We krijgen in één keer veel bezoekers en we worden meteen op de kaart gezet", aldus de fractievoorzitter tegenover RTV Rijnmond. Als Nissewaard, waar Spijkenisse onderdeel van is, wordt gekozen kost dat de gemeente 175.000 euro aan inschrijfgeld. De gemeente moet dat geld betalen, maar mag wel sponsoren zoeken. "Ik ga ervan uit dat ondernemers enthousiast worden en willen meebetalen als het Glazen Huis naar Spijkenisse komt", aldus de PvdA.
De totale kosten voor het Glazen Huis bedragen ongeveer 300.000 euro. De extra kosten zitten in bijvoorbeeld politie-inzet, beveiliging en vergunningen. Andere partijen vinden het ook een goed idee om het Glazen Huis binnen te halen, maar willen wel dat er een goed doordacht plan op tafel komt.
Haalbaarheid
De gemeenteraad van Nissewaard heeft het college opdracht gegeven om uit te zoeken of het haalbaar is om het Glazen Huis naar Spijkenisse te halen. De gemeente moet voor 27 februari de plannen inleveren bij 3FM. Utrecht en Amersfoort hebben zich ook aangemeld voor 2016 en 2017.
Spijkenisse deed in 2012 en 2013 ook al een gooi naar het Glazen Huis. Toen werden respectievelijk Enschede en Leeuwarden gekozen. Dit jaar staat het huis in Heerlen.