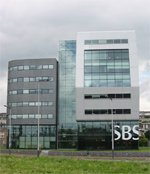 SBS Nederland wordt overgenomen door uitgever Sanoma en mediabedrijf Talpa van John de Mol. Nu is SBS nog in handen van het Duitse ProSieben nemen SBS Nederland over van het Duitse ProSiebenSat.1. Sanoma wordt voor 67 procent eigenaar van SBS Broadcasting B.V. en Talpa voor 33 procent.
SBS heeft de zenders Net5, SBS6 en Veronica, de tv-bladen Veronica Magazine en Totaal TV en TV-productiebedrijven en teletekstbedrijven. SBS was ooit eigenaar van radiozender Caz!, maar de zender werd in 2007 verkocht aan Arrow Classic Rock. Sindsdien heeft SBS geen radiozenders meer.
Talpa is sinds 2007 ook voor 26,3 procent aandeelhouder van RTL Nederland. RTL is ook weer eigenaar van Radio 538 en Radio 10 Gold. Wat de deal met SBS voor gevolgen heeft voor bestaande programma's van Talpa en 538, is nog niet duidelijk. De Volkskrant schreef gisteren al dat RTL zich zorgen maakt over de overname. Naast The Voice of Holland maakt De Mol nog meer hits voor RTL, zoals Ik Hou van Holland en Iedereen is gek op Jack, beide met zijn zus Linda. RTL heeft de rechten van dit soort successen normaal gesproken voor een aantal jaren vastgelegd. Maar voor nieuwe programma's – en presentatoren – zal De Mol als mede-eigenaar van SBS een andere afweging moeten maken.
In België neemt Sanoma samen met Corelio en Wouter Vandenhaute & Erik Watté SBS België over. De totale waarde van de overname in Nederland en België is 1,225 miljard euro. De transactie moet nog worden goedgekeurd door de Nederlandse Mededingingsautoriteit(NMa).