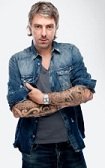 "Ik heb de directeur van Radio 538 gebeld en gevraagd of ik terug mocht komen", dat zegt Radio 538-middagjock Ruud de Wild in een openhartig interview met het AD. Hij vindt dat hij zich "wanstaltig" heeft gedragen toen hij Radio 538 in 2008 verliet. "Ik was zoekende, meer kan ik er niet van maken."
Bij zijn terugkeer vorig najaar heeft hij ten overstaan van alle medewerkers van het station zijn excuses gemaakt. "Alle gasten met wie ik ruzie had, ben ik afgegaan. Zo hoort dat als je zaken verkeerd hebt gezien. Als je op die manier een grote jongen durft te zijn, geven andere mensen jou weer hun vertrouwen. Dat deden ze ook omdat ik een committent afgaf. Ik zei: binnen een jaar ben ik op zijn minst de nummer twee van de middag."

In het interview vertelt De Wild verder dat hij veranderd is. Hij vindt zichzelf "een leukere persoonlijkheid dan tien jaar geleden". Dat komt mede doordat hij in therapie heeft gezeten. "Ik moest in de spiegel naar mezelf kijken om vervolgens eerlijk te zeggen wat ik zag. Ook de onplezierige kanten moest ik benoemen. Dat vond ik een zware wedstrijd. Heel pittig. Ik ontdekte dat ik minder leuk was dan ik dacht. Wat een lul. Een allemansvriend die met de mensen die er echt toe doen in zijn leven geen fatsoenlijk contact had."
"Ik ben nu de persoon die ik wil zijn. Dan kun je ook niet meer tegenvallen. Iemand die anders in het leven staat en niks geeft om zijn imago", zegt hij over zijn verandering. "Ik ben niet bang om voor lul te staan. Ik ben de schaamte voorbij. In de ogen van veel mensen ben ik een gênante vertoning: 42 jaar, vader van twee kinderen die nog altijd drieletterwoorden op de radio schreeuwt. Het interesseert me geen reet wat ze van me denken."
De Wild haalt in het AD ook uit naar Powned. "Ik weiger een geïnterviewde te naaien zoals in uitzendingen van Powned gebeurt met het betere plak- en knipwerk waardoor hij of zij slechter uit het gesprek komt. Dat Powned is ook allemaal zo bedacht en als je er goed naar kijkt kleurloos. Er is niks rebels aan. Het is een leuke hobby voor Dominique Weesie die doet alsof hij er voor de gewone man is, maar intussen is hij zo elitair als wat."
"Hij is de Michael Jackson van de radio", zegt De Wild over zijn ochtendcollega Edwin Evers. "Hij kan dingen die ik niet kan. Hij is muzikaal, hij kan goed typetjes doen en kiest daarbij qua actualiteit altijd de goede om na te doen. Hij is compleet. Verder snapt en begrijpt hij het hele volk, waardoor iedereen van hem houdt. Hij is de boy next door. Terwijl heel veel mensen mij niet leuk vinden. Of je houdt van mijn programma's, of je vindt met een lul. Geen idee waarom. Misschien om hoe ik er uit zie?"