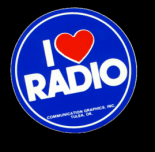 Veel radiostations staan morgen uitgebreid stil bij Valentijnsdag. Ook Slam!FM staat in het teken van liefde en romantiek. Tot en met vandaag konden verliefde luisteraars zich via internet inschrijven en hun gegevens én die van hun geheime liefde achterlaten. Op Valentijnsdag proberen de dj's van de zender de geheime liefdes aan elkaar te koppelen en slaat de vonk over, dan beleeft dit liefdeskoppel op Valentijnsavond het Love Boat feest in the Passenger Terminal in Amsterdam.
Radio West zet ook de hele programmering in het teken van de liefde. Met radio vanaf een liefdevolle locatie, liefdesverhalen, romantische gedichten, liefdesliedjes en de beste tips voor een liefdevol leven.
Tot vandaag konden op de liefdeslijn van de regionale zender boodschappen worden ingesproken voor een geliefd iemand, de mooiste, origineelste of meest ontroerende boodschappen winnen een toepasselijke prijs.
Op Sky Radio is de hele dag de Valentijn Top 101 te horen. De 101 populairste lovesongs worden gedraaid tussen 10:00 en 17:00 uur. 'Angels' van Robbie Williams is volgens de luisteraars van Sky Radio de ultieme Valentijn lovesong van 2007. Die plaat staat dan ook op nummer 1.
Valentijn-favoriet Robbie Williams werd door de luisteraars vier keer in de lijst gestemd. Marco Borsato komt met vijf noteringen het meest voor op de lijst. Met 'Rood' haalde Borsato op nummer 6 zijn hoogste positie. James Blunt met 'You're Beautiful' was vorig jaar nog de nummer 1 en staat dit jaar op de tweede plaats.
FunX heeft een stream op internet opgezet die in het teken staat van Valentijnsdag met non-stop Slow Jamz van onder andere Boyz II Men, Alicia Keys, Bob Marley, Mary J Blige en Aventura. Deze is vanaf afgelopen zondag al te horen.
Popzender 3FM stuurt luisteraars naar Venetië, Barcelona of Parijs. Luisteraars kunnen morgen hun stille geliefde verrassen en zo de reis winnen.
Dj Menno Barreveld van Q-music presenteert zijn programma morgen vanuit een bus. Hij rijdt rond om stellen op te halen en in de bus krijgen, waar zij onder het genot van een hapje en een drankje een concert van VanVelzen krijgen voorgeschoteld. Na afloop van de rit worden zij afgezet bij het Q-music Love-hotel waar zij eerst een heerlijk diner krijgen en waar zij daarna blijven overnachten.