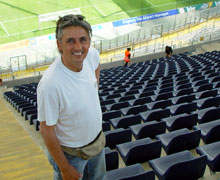 "Ik ben vreselijk nerveus, maar ik heb er hartstikke veel zin in. Ik ga back naar mijn roots, aangezien ik uit de piraterij kom. Als je op het dak van zo'n gebouw staat om een zendmast neer te zetten en aan te sluiten en je rijdt daarna door de stad om te kijken hoe ver je te horen bent, dat is echt heel mooi." Bij Robbert Meeder (op de foto's in Frankfurt), presentator bij Langs de Lijn, giert de adrenaline al een tijdje door het lijf. Hij kreeg iets voor elkaar, waar hij van tevoren niet op had kunnen hopen. Vanaf aanstaande zondag heeft hij z'n eigen zender op dagen dat het Nederlands elftal speelt op het WK voetbal in Duitsland.
Begin dit jaar kreeg Robbert Meeder het idee om in de Duitse speelsteden zelf te gaan uitzenden. "Samen met Gert Voogd, die het bedrijf Pro FM Solutions uit Waddinxveen heeft en dus ook faciliteiten kan regelen, heb ik toen een plan in elkaar gezet en heb ik bij de NOS aangeklopt. Maar daar zijn nu bezuinigingen gaande, dus zeiden ze dat ze dit niet konden maken. Dat snapte ik wel en ik ging er vanuit dat het plan in de prullenbak kon. Maar toen nam zendercoördinator Jan Westerhoff van Radio 1 contact met me op. Hij had er wel oren naar. En half februari kreeg ik het definitieve groene licht dat het kon!"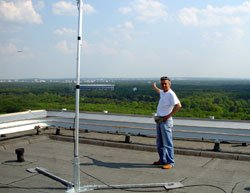 Toen begon het regelen. "We moesten allerlei vergunningen gaan aanvragen. De Duitse instanties lieten ons al weten dat de frequentieband erg vol zit in Duitsland. Maar toen hebben ze contact opgenomen met radiozenders in de buurt die wellicht gestoord zouden kunnen worden door ons signaal. En die gaven in alle speelsteden toestemming om ons een paar uur te laten uitzenden. En toen kregen we toestemming. Maar we mogen maar uitzenden met een vermogen van 20 Watt, met uitzondering van Frankfurt waar we met 50 Watt uitzenden. Dus ik had hoge gebouwen nodig. Ik ben zelf op Google Earth naar geschikte lokaties gaan zoeken en ben gaan bellen naar bedrijven die daar zaten. Mijn eerste vraag was dan: hoe hoog is uw gebouw? En natuurlijk of we erop mochten. En bij bijna allemaal mogen we dat gratis. Alleen in Leipzig moeten we 500 euro betalen, maar dat is dan ook een hele mooie locatie."
Aanstaande zaterdag rijden de heren richting Duitsland. "Op de dag van de wedstrijden beginnen we drie uur voor de aftrap met uitzenden. Het eerste uur is dan non-stop Nederlandstalige muziek. Dat is niet Frans Bauer muziek, maar Nederlandstalige pop-muziek. Twee uur van tevoren gaan we dan interviewtjes doen met mensen die aanwezig zijn. Dat kunnen mensen van de NOS zijn, maar ook gasten die er toch al zijn voor tv, zoals Johan Cruijf, Herman van Veen en Erik van Muiswinkel. Daarnaast werken we samen met BNN. Zij hebben vier mensen van het Radio 1-programma BNN United in de stad rondlopen, zoals Sophie Hilbrand en Patrick Kokx. Zij leveren reportages aan. Patrick komt speciaal vanuit de stad heen en weer rijden en gooit een cd'tje door het hek heen die hij in een camper gemonteerd heeft", zo zegt Meeder.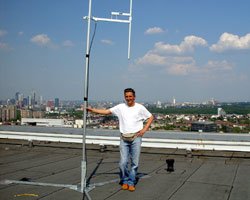 "Ook hebben we tussendoor contact met Het Korps Landelijke Politiediensten (KLPD). Twee keer per uur geven zij ons een update over de supportersstromen. Dit kan bijvoorbeeld gaan over een bus die supporters naar het stadion brengt die vertraging heeft. Als maar één iemand bij de bushalte dat al hoort, dan weet iedereen het natuurlijk snel. Of als er ergens een vechtpartij is, melden wij dus waar je niet moet zijn als supporter. De KLPD heeft mensen in de stad rondlopen. Dus als ze ook een melding krijgen dat er ergens in bijvoorbeeld Leipzig valse kaartjes worden verkocht, dan melden wij dat. En natuurlijk hebben we actuele informatie over waar files staan naar de speelsteden toe of ervan af."
Tijdens de wedstrijden kunnen supporters met een radio meeluisteren naar het live-verslag dat via Radio 1 in Nederland wordt uitgezonden. "Vanaf een half uur voor de aftrap haal ik het signaal van Radio 1 van de Astra-satteliet via een schoteltje die we meenemen, zodat mensen dat kunnen volgen." Maar luisteren mensen in het stadion dan wel constant naar de radio? "Nee, maar dat is ook niet de bedoeling. Maar als je zelf in een stadion zit en er gebeurt iets in de wedstrijd, zoals een penalty, dan zie je iedereen zich omdraaien naar de VIP-boxen om te kijken of ze kunnen zien of het wel een strafschop was. En dat kan ook op het WK. Mensen kunnen dan even de radio aanzetten. En in de rust en na de uitzending kunnen ze de nabeschouwing volgen en reacties van spelers beluisteren.

In totaal kost de operatie maximaal 20.000 euro. "Dat is natuurlijk heel weinig in vergelijking met de tv. En die 20.000 euro hebben we alleen maar nodig als Nederland ook de finale haalt. De kosten zitten vooral in het verblijf in het hotel en de reis." Daarnaast is alles 'basic', zegt Meeder. "We zitten tussen de regiewagen en de materiaalwagen van de NOS. Daar tussenin zitten wij met een plastic tafel en drie stoelen van de Karwei. Verder hebben we twee cd-spelers, een mengtafel, twee microfoons, twee koptelefoons en een vork om telefoontjes in de uitzending te kunnen halen. Maar voor de publiciteit is het geld al goed besteedt natuurlijk."
Om zo veel mogelijk mensen aan het luisteren te krijgen, gaat het team 10.000 radio's uitdelen in de vorm van een 1. "Per wedstrijd ongeveer 2500. Die zullen wel zo weg zijn, maar het is toch wat! Daarnaast delen we flyers uit met de frequenties daarop. En we zoeken in Nederland de publiciteit. Ik zit deze week nog bij Radio 2 en Radio 1, eind deze week in de GPD bladen en de Telegraaf wil nog graag een gesprekje. Dus in Nederland doen we er ook alles aan."
In het buitenland wordt met argusogen gekeken naar het Nederlandse project. "De Britse BBC en de Vlaamse VRT willen graag weten hoe het afloopt." En ook voor het EK in 2008 bruist Robbert Meeder al van de plannen. "Het mooiste zou zijn als we over twee jaar de krachten bundelen. Radio 2 en Radio 3FM zitten nu zelf ook in Duitsland. We zouden een professionele studio neer kunnen zetten waar we allemaal gebruik van kunnen maken. Wij zouden dan ook al eerder live kunnen gaan uitzenden voor mensen die op de camping in de buurt zitten, maar dat is toekomstmuziek. Eerst dit maar eens goed afronden. Ik ga ervoor!"