Q-music start in het najaar met een nieuwe editie van Q-college. Dit zegt programmadirecteur Iwan Reuvekamp tegen RadioFreak.nl. De voorinschrijving is inmiddels begonnen.
In het najaar van 2011 schreven meer dan 1000 mensen zich in voor de eerste editie van Q-college. Via de webcam kon iedereen een aanmelding doen waarbij het ging om de stem. "Samen met collega's hebben we all demo's gehoord. En binnen 30 seconden kun je al goed horen of iemand het heeft of niet."
Hierna werden 60 mensen uitgenodigd die een oefening in de studio moesten doen. Hierna viel de helft af. Daarna volgde gesprekken en een enquête en uiteindelijk bleven er vijf kandidaten over. Hiervan trok er één zich terug en ging Q de finale in met vier kandidaten.
Zij kregen eerst een interne opleiding inclusief theorielessen waaronder radioproductie, vormgeving en mediatraining. Daarnaast konden ze oefenen met het uiteindelijke doel: de finaleweek waarin ze een week lang een stuk van een programma mochten maken en er steeds één kandidaat afviel. De eerste editie werd gisteren gewonnen door Erik van Roekel.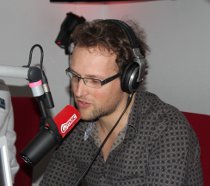 "Het aantal aanmeldingen overtrof onze verwachtingen, maar de kwaliteit nog meer." Zegt Reuvekamp. "Er zaten heel veel talentvolle mensen tussen."
Vroeger stuurde iedereen een bandje of cd'tje op, maar Q heeft het nu met een talentshow gedaan. "Wij zoeken de mensen nu actief op. En veel mensen zonder radio-ervaring vielen positief op." Volgens Reuvekamp is geen radio-ervaring ook geen probleem. "Het voordeel is dat je die mensen veel kunt leren terwijl je mensen van een lokale omroep vaak dingen moet afleren. Het probleem bij veel lokale omroepen is dat er weinig coaching is voor jonge medewerkers. Dus dan ga je het jezelf leren en denk je dat dat goed is."
Voor de afvallers van Q-college hoeft het geen definitief einde te zijn. "Ze moeten aan de slag gaan bij een lokale omroep en zich gaan ontwikkelen. Ik probeer met ze contact te houden en wil ze ook coachen. Ze hebben echt talent."
De nieuwe editie van Q-college zal dit najaar starten.