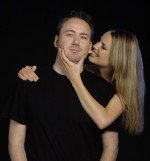 Als het aan Patrick Kicken ligt komt er een Michael Jacksonstraat in zijn woonplaats Almere. De dj van Radio Veronica is een actie gestart in zijn programma.
De dj vindt het onbegrijpelijk dat er nog geen straat naar de onlangs overleden King of Pop is vernoemd. Hij vraagt in zijn programma luisteraars te mailen en sms'en. Die wil hij dan aan burgemeester Annemarie Jorritsma van Almere sturen.
"Almere Muziekwijk heeft wel al diverse muzikanten op de kaart gezet waaronder Jimi Hendrix en de Rolling Stones. Het is toch van de gekke dat Michael Jackson, hét icoon, dé King of Pop, nog geen eigen straat heeft? In de Muziekwijk hoort gewoon een Michael Jacksonstraat!", aldus Kicken.