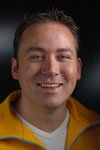 Hij maakt nu bijna 15 jaar radio, waarvan 9 jaar op de landelijke zenders. Hij was een van de eersten die SMS en MSN in de uitzending gebruikte en lanceerde ook met succes een eigen site met daarop grappige bestanden en fragmenten uit zijn eigen radioprogramma. Internet en radio zijn zijn grote passies. Tijd dus om eens langs te gaan bij Patrick Kicken tijdens zijn programma.
Het is stil en donker in het gebouw van Sky Radio en Radio Veronica in Naarden als we er aankomen. Het is duidelijk zondag. Een van de weinige mensen die nu wel aanwezig is, is dj Patrick Kicken. In de nieuwe studio van Radio Veronica zijn alleen maar kleine lampjes aan, zodat er een echte zondagmiddagsfeer hangt. "Ik heb het gevoel dat ik nu pas radio maak zoals het moet. Volgens mij is het maken van radio een van de moeilijkste beroepen die er is", zo begint hij. "Goede radio is iets dat communiceert met de mensen. Je bent op de radio omdat je mensen iets wil brengen. En vanuit die gedachte moet je radio maken. Dat heb ik ook geleerd uit veel Amerikaanse boeken over radio die ik gelezen heb. Je bent bezig voor de luisteraar. En dat doen veel te weinig radiomakers. Ik heb ook jarenlang gedacht: goh, leuk, mezelf een beetje amuseren op de radio. Dat komt soms goed over, maar vaak ook niet. En dat hoor ik nog teveel op de radio." Patrick heeft een duidelijk mening over het maken van radio. Zijn broer Henri zorgde ervoor dat hij bij de radio kwam. Aanvankelijk was Patrick echt een computernerd. "Computers waren mijn passie!", zo zegt hij. Zijn broer nam hem echter een keer mee naar de lokale Belgische zender 'Radio Veronica Anders' uit Maaseik waar hij plaatjes draaide. Rond de kerst in 1989 mocht hij vervolgens een keer voor hem invallen omdat hij ziek was. Niet snel daarna kreeg Patrick zijn eigen programma. In de zomer van 1995 probeerde de uit het Limburgse Stein afkomstige Patrick, na bij allerlei lokale stations te hebben gedraaid, het maar eens hoger op. "Ik spendeerde 400 gulden om tien cd's te kunnen laten maken en die stuurde ik op naar onder andere Radio Noordzee en de TROS. Rob van Someren ontdekte me bij deze laatste en zo mocht ik daar programma's als TROS Nachtwacht en Tussen Happen en Stappen presenteren."
Zijn relatie met de TROS eindigde abrupt. "Ik kreeg ruzie met mijn producer Carla Versloot. Ik vond dat zij niet de producer was die ik nodig had. Daarbij kwam dat ik teveel deed. Ik had een weekendprogramma en nog een paar nachtprogramma's. Ik werd daar heel chagrijnig van en ik liet ook steken vallen. Zo gaf ik in de nacht prijzen weg die ik vervolgens nooit verstuurde. Daardoor kreeg de TROS weer boze telefoontjes binnen. Binnen de omroep kreeg ik op die manier een beetje de naam van de mafkees die zich niet aan de afspraken houdt. Dan hoeft er maar weinig te gebeuren, of het wordt helemaal uitvergroot. Maar ja, Carla was wel nou net de vriendin van mijn baas, programmaleider Daniël Dekker. Een jaar voordat ik wegging haalde hij ons dan ook simpel uit elkaar. Maar je weet hoe dat gaat als de verhoudingen verstoord zijn. Dus toen moest ik na een jaar weg. Daniël zei nog wel tegen me dat het niet aan mijn radiokwaliteiten lag, maar na zes jaar TROS boterde het gewoon niet meer. Daar kwam nog eens bij dat de toenmalige zendercoördinator Paul van der Lugt geen fan van me was. Na een paar keer in de nacht was hij toch meer gecharmeerd van Giel Beelen. Ik heb het gevoel dat hij dacht: 'die heb IK ontdekt', terwijl hij eigenlijk gewoon bij de AVRO is ontdekt. Hierdoor werd ik steeds minder gewaardeerd door Van der Lugt." Vervolgens kwam hij terecht op de centrale muziekredactie van Radio 3FM. "Ik was blij dat ik toch nog wat kon doen bij de omroep nadat ik weg was bij de TROS." Op de muziekredactie zocht Patrick vooral naar nieuwe muziek. "Ik heb natuurlijk een achtergrond met internet en daar wist ik dan ook veel nieuwe muziek te vinden. Dat ik vervolgens bij Veronica terecht kwam was volgens sommige dan ook opvallend. Ik weet nog dat ik een sms van Rob Stenders kreeg met daarin de melding 'haha, jouw lot: op een gouwe ouwe zender als een nieuwe muziek- en itemfreak'. Maar ik kan hier natuurlijk wel over MSN en internet praten. Dus dat houdt het wel fris." Na de muziekredactie was Patrick nog even bij de VARA te horen in het ochtendprogramma van Rob Stenders.
Ook had hij nog een korte schnabbel bij Yorin FM. "Programmaleider Robbert Feller belde me op of ik iets bij dat station wilde komen doen. En ik dacht: ik probeer het gewoon. Achteraf was het eigenlijk gewoon niet het juiste moment om naar Yorin FM te gaan. Daarbij vonden zij dat ik teveel mijn eigen sfeertje neerzette. Ook al was het maar drie keer een aankondiging per uur. Maar ja, zo ben ik nu eenmaal. Ik probeer een leuke sfeer op te zetten. En daar wilden ze maar 1 sfeer: die van Yorin FM."
Rob van Someren hielp hem een tweede keer om bij Veronica aan de gang te komen. "Rob van Someren liet hier mijn naam vallen, al kende ik programmaleider Uunco Cerfontaine ook al wel langer. Eerst ging het nog van: 'kun jij Rob van Someren gaan vervangen in het weekend', maar waarschijnlijk hadden zij toen al in hun achterhoofd dat Adam Curry in de ochtend zou gaan stoppen en dat Jeroen van Inkel dan zijn plaats in zou nemen. Rob van Someren ging toen definitief naar de middag en ik kon zijn weekenduren overnemen."
Veronica is toch wat anders als de TROS. "Alles wordt hier onderzocht. Zo is er net een groot onderzoek afgerond naar wat luisteraars graag willen horen. Daarnaast tellen hier de luistercijfers. Bij de publieke omroep telde dat niet echt mee. Ik kon doen en laten wat ik wilde, vooral in de nacht. Het was gewoon zo van: 'als je niks hoort, is het goed'. Dat is hier wel anders. Je krijgt meteen feedback. Daarbij zit ik nu overdag, met als gevolg dat je minder respons krijgt van luisteraars. En ik ben iemand die graag de interactie met de luisteraar opzoekt." Zelf luistert Kicken "natuurlijk naar Veronica. Ik moet op de hoogte zijn van acties op de zender." Daarnaast luistert hij veel naar buitenlandse radiostations. Daar kun je hele leuke ideeën op doen. In Nederland zap ik gewoon heel erg veel. Als een telefoongesprek bijvoorbeeld niet loopt, dan zap ik al weg.
Zou Patrick Kicken graag terug willen naar 3FM als ze hem zouden vragen? "Nee, niet graag. Bij Radio 3 heb ik natuurlijk negen jaar gewerkt. Ik weet natuurlijk wat daar het probleem is. Zolang er het bestel blijft zoals dat nu is, blijft de zender tegen een onzichtbare vijand vechten. Daarnaast voel ik me hier op m'n plek. Ik heb doorgroeimogelijkheden, dus wie weet!" En als je nou de kans krijgt om in de drivetime-uren op 3FM te komen, zou je dat dan doen? "Ja, ik denk dat ik daar wel wat leuks van kan maken. Ik heb zelfs nog even met BNN gesproken voordat ik hier bij Veronica ging werken, maar het was al min of meer beklonken dat Wout het zou worden. Ik vind hem overigens geen slechte dj, maar of hij het gaat winnen van Ruud de Wild en Robert Jensen weet ik niet.