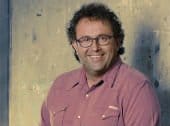 De ochtendshow 'Rick in de Morgen' van Rick van Velthuysen stopt mogelijk per 1 november, zo melden diverse bronnen aan RadioFreak.nl. Rick van Velthuysen wil niet persoonlijk op het nieuws reageren, Radio Veronica zegt van niets te weten.
WOS Media heeft een nieuwsbrief naar de medewerkers uitgedaan waarin vermeld wordt dat Margriet van der Eijk haar dienstverband bij de WOS heeft opgezegd en per 1 november de omroep verlaat. 'Margriet is in het vizier gekomen bij regionale en landelijke omroepen. Zij heeft zich laten winnen door Radio Veronica, die binnenkort met een nieuw ochtendprogramma wil starten', zo is te lezen in de nieuwsbrief die in handen is van RadioFreak.nl. Radio Veronica ontkent de berichtgeving.
Of Van Velthuysen helemaal weggaat bij Radio Veronica of dat alleen zijn ochtendshow stopt, is ook niet duidelijk. Afgelopen donderdag werd bekend dat de ochtendshow van Van Velthuysen genomineerd is voor de Gouden Radioring.
Ochtendshow
Rick van Velthuysen presenteerde van februari 2009 tot augustus 2010 de ochtendshow op Radio Veronica. In augustus 2010 moest Van Velthuysen plaatsmaken voor Robert Jensen die samen met Jan Paparazzi de ochtendshow ging presenteren. Sinds de zomer van 2011 is Van Velthuysen weer terug in de ochtend van Radio Veronica.
In oktober 2013 maakte Radio Veronica bekend een nieuwe koers te gaan varen. Er werd afscheid genomen van Bart van Leeuwen, Luc de Rooij, Dennis Hoebee en Erwin Peters. Later nam de zender ook afscheid van DJ Sven (Jules van Helst) en moest Rob van Someren plaatsmaken voor Jeroen van Inkel.
Update
Vanmorgen kon Vernica nog niets laten weten over Margriet van der Eijk. Inmiddels laat de zender weten dat Van der Eijk naar Radio Veronica komt, maar ze gaat volgens de radiozender in de middagshow nieuwslezen.