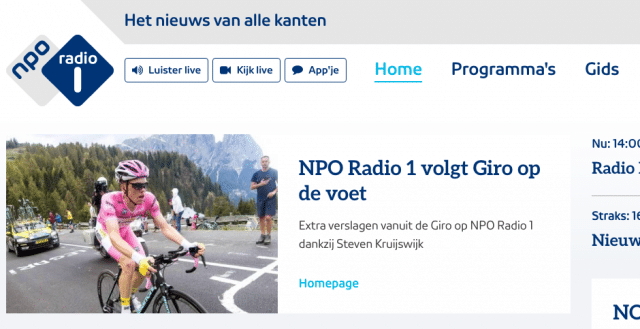 NPO Radio 1 heeft vanmiddag haar nieuwe website gelanceerd. Naast de vormgeving is de website ook inhoudelijk aangepast. De website laadt nu sneller en schaalt mee met de grootte van het scherm – monitor, tablet of smartphone – van de bezoeker. Daarnaast staan er op de homepage nu een aantal webartikelen die verdere verdieping geven op de onderwerpen die op zender aan bod komen. Met de webartikelen wil NPO Radio 1 een groter bereik genereren via Social Media en andere websites.
De terugluisterfragmenten, die ook op de vorige website stonden, hebben ook op de nieuwe site een plek gekregen. "Maar daarbij is wel iets toegevoegd: bezoekers krijgen de gelegenheid om fragmenten toe te voegen aan een playlist, om op die manier eenvoudig meerdere fragmenten, uitzendingen of reportages na elkaar te kunnen beluisteren", aldus een woordvoerder van de NPO.
Tot slot heeft het versturen van een bericht naar de studio (een 'appje') een meer prominente plek gekregen. Dat heeft de zender gedaan om een betere invulling te geven aan de behoefte van luisteraars om direct te kunnen reageren op de lopende uitzending.