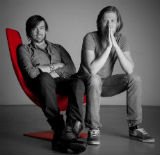 Q-music-dj's Mattie & Wietze gaan maandag met een groep kinderen naar de Efteling. Dit doen ze als tegenactie voor de steeds duurder wordende kinderopvang.
Komende maandag zijn kinderen welkom bij 'Mattie & Wietze Kinderopvang'. De Q-dj's passen een dagje op. Alle ouders die de hoge prijzen van de kinderopvang beu zijn of gewoon een dagje op pad willen zonder kinderen, kunnen hun kroost voor één dag onderbrengen bij 'Mattie & Wietze Kinderopvang'.
De afgelopen weken hebben vele ouders zich aangemeld om van de gelegenheid gebruik te maken Mattie & Wietze een dagje voor oppas te laten spelen. De hele dag zal een team van professionele begeleiders klaarstaan om samen met Mattie & Wietze de kinderen een grandioze dag te bezorgen in de Efteling. Dinsdag tussen 06:00 en 09:00 uur zal te horen zijn of de dj's én de kinderen heelhuids zijn teruggekeerd.