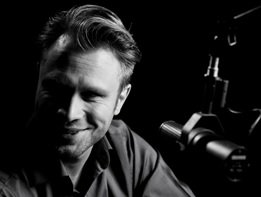 In de rubriek 'Hoe is het met?' interviewen we dj's die niet meer op de landelijke radio te horen zijn, maar dat voorheen wel waren. Deze week met: Maurice Verschuuren.
In 2001 was Maurice Verschuuren voor het eerst op de landelijke radio te horen. Bij 3FM maakte de toen nog 19-jarige Verschuuren een programma op vrijdagnacht. Ook was hij vervanger van het programma 'Arbeidsvitaminen'. In 2004 maakte Verschuuren de overstap naar Yorin FM, om vervolgens in 2006 aan de slag te gaan bij Slam!FM, alwaar hij een avondprogramma presenteerde en verantwoordelijk was voor de vormgeving. Radiostations als Caz!, Arrow Classic Rock en Radio 10 Gold volgden. Verschuuren was meer dan een jaar invaldj bij Q-music. In oktober 2011 stopte hij bij Q-music om zich volledig op zijn werk als voice-over te richten.
Wat doe je nu?
Ik ben fulltime voice-over /  stemacteur. Daarnaast produceer ik radio- en tv commercials, schrijf en bedenk ik teksten voor reclames, en ben ik creative director bij NOVAZ, waar we onder meer jingles en vormgeving maken.
Waarom ben je niet meer op de landelijke radio te horen?
Je hoort me wel, maar niet als presentator 😉
Al in 2003 ben ik naast m'n radiowerk begonnen met m'n bedrijf. De laatste jaren was DJ-werk niet meer te combineren met al het andere dat ik deed. De volledige vrijheid van ondernemen heb je wat minder als je een dagelijkse radioshow doet. Daarnaast heb ik het geluk gehad om met ontzettend veel leuke en bijzondere mensen te werken in Hilversum. Mijn helden van vroeger zijn nu m'n beste vrienden. Ik werk nog met een heel groot deel van hen achter de schermen dus heb niet direct de drang om een show te presenteren.
Wat was je leukste radiomoment? 
Ik heb erg veel goeie herinneringen aan alle zenders waar ik heb gewerkt; 3FM, Decibel, CAZ!, Q-Music, SLAM!FM, KX Radio. Maar de leukste tijd was Yorin FM in 2004-2005 en later Arrow Classic Rock in 2007-2008. Daar heerste echt een vrijgevochten sfeer waar je tegen niemand hoefde te zeggen wat hij moest doen, omdat iedereen dezelfde bloedgroep had en het begreep.
Is er een kans dat we je weer landelijk gaan horen?
In de toekomst; Zeker. Ik hoef niet zo nodig hetzelfde te blijven herhalen wat geen uitdaging meer gaf, maar in de toekomst kan er goed een specifiek programma, of een zender komen waar ik enthousiast van wordt en een verschil kan maken.
Naar welke dj en welk station luister je nu graag?
Ik volg en luister  alles. Nederland is nog steeds in een fantastisch radioland, maar ik luister ook veel naar FIP (een experimentele zender met muziekstromingen van klassiek tot blues), JazzRadio en Virgin (alle drie Frankrijk). Momenteel luister ik ook veel Amerikaanse talk radio en doelgroep shows als Alex Jones (libertarisch) of Coast to coast AM (paranormale onderwerpen).
Heeft de radio nog toekomst?
Absoluut. Net als film is het iets dat nooit zal verdwijnen en altijd in beweging zal blijven.