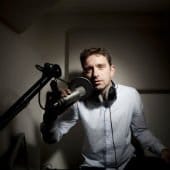 Jente Kater maakt zijn debuut in 1998 bij Radio 538. Hij maakt hier in de nacht en in het weekend programma's als 53N8, 'The Catwalk' en 'Een Kater in de Morgen'. Bij de start van Radio Veronica in 2003 maakt hij onderdeel uit van de programmering. Hij gaat het nachtprogramma 'Oh wat een nacht' maken. In 2005 maakt hij de overstap naar Slam!FM waar hij na een jaar weer vertrekt. Tussen 2001 en 2006 maakte hij een programma op Kink FM.
Hierna is hij nog te horen op Wild FM en gaat hij zich richten op zijn eigen bedrijf. Inmiddels is hij niet meer als dj te horen en zijn we benieuwd hoe het met hem gaat. Daarom spreken we hem voor onze serie Hoe is het met…'.
Wat doe je nu? 
Ik ben de oprichter van Voicebooking.com, de eerste webshop ter wereld voor voice-overs. Daarnaast ontwikkelen wij via mijn andere bedrijf One-o-Niners webradio voor merken, media en internetplatforms. Hierbij hebben we eigen systeem voor streaming radio ontwikkelt waarbij je per luisteraar kan bepalen wat hij of zij hoort.
Waarom ben je niet meer op de landelijke radio te horen.
Op aanraden van Ruud Hendriks ben ik een eigen bedrijf begonnen, iets wat hij heel goed heeft gezien en waardoor ik mij op een breder vlak met media en communicatie bezig kan houden. Dat voelde voor mij als thuiskomen. Daarnaast heb ik met 538, KinkFM en Veronica bij een aantal van de mooiste stations van Nederland gewerkt. Ik hoef er dus niet van wakker te liggen dat ik misschien iets gemist heb.
Wat was je leukste radiomoment. 
Dat is een fragment waarin ik Sensationkaartjes weggaf aan een luisteraar die eerst 10 octaven lager moest gaan praten.

En natuurlijk het smerigste spelletje van de radio ooit: de SlamFM / Oh Wat een Nacht Darkroom, waar de telefoon altijd roodgloeiend stond, ook al gaven we een balpen weg.
Is er een kans dat we je weer landelijk gaan horen?
Hier wil hij alleen "Ik vrees van wel…"  op zeggen.
Naar welke dj en welk station luister je nu graag?
Naar Evers, Dane en Ruyer luister ik graag maar ook nieuwe jocks als Martijn Biemans, let op zijn stem – daar zit een klankkast in die nog lang niet uitontwikkeld is. Michael Blijleven is één van de meest sympathieke radiopersoonlijkheden van zijn generatie en, heel goed gezien door SlamTV, een meidenmagneet. En Joost Burger is een persoonlijkheid in de dop, eentje die met weinig woorden heel veel kan zeggen.
De zenders waar ik zelf graag naar luister zijn 538, 3FM en JazzRadio.fr. JazzRadio is de Radio10Gold onder de Jazz zenders: nooit elitair, gewoon hits knallen! Zouden ze bij Sublime FM ook moeten doen…
Heeft de radio nog toekomst? 
Waarom niet? Mensen die zich dat afvragen komen OF uit de grachtengordel OF onderschatten de kracht van het medium.
Wel zal radio in de toekomst de mogelijkheid moeten krijgen om meer te kunnen targeten op de behoeften van luisteraars. Dus meer zenderaanbod in de (digitale) ether, nicheradio en meer spin-offs. Bijvoorbeeld 24 uur per dag Dance Department of Evers staat (nog steeds) op. En in de verdere toekomst: radio luisteren naar je favoriete jock maar zelf bepalen welke muziek daar omheen zit.
Bij jonge kinderen kan je nu al heel goed zien dat het huidige model eindig zal zijn. Ik moet mijn dochters steeds weer uitleggen dat ze toch echt moeten wachten tot dat ene liedje is afgelopen… Als zij volwassen zijn gaan ze echt niet zitten wachten tot een liedje dat ze niet leuk vinden is uitgedraaid.