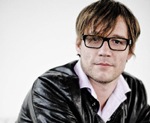 Giel Beelen is zelf onaangenaam verrast over het nieuws dat hij een eigen televisieprogramma krijgt. Gisteren meldde RadioFreak dat de VARA al op zoek is naar redacteuren voor het nieuwe tv-programma. Maar of het allemaal wel doorgaat weet Giel zelf nog niet. "Het programma is al ingepland, maar er is nog helemaal geen programma!", zo zegt de 3FM dj.
Of Giel dus een eigen tv-programma gaat maken is nog helemaal niet zeker. "Ik ben aan het kijken of ik iets leuks kan verzinnen voor op televisie. Maar het staat nu al wel in de boekjes. Ik voel me echt zo'n cabaretier die al wel in de boekjes staat, maar nog geen show af heeft."
Deze zomer is er bij wijze van proef een tijdslot ingepland op de zondagavond. "Maar ik heb nog geen idee wat ik ga doen", zo geeft Giel commentaar.
"Ik word er een beetje onrustig van dat het nu al zo lijkt alsof het echt gaat gebeuren. Ik word er eerlijk gezegd een beetje anti van, dat ik denk: 'krijg de tering maar'." Giel blijft zijn radioprogramma het belangrijkste vinden. "Maar als ik nu iets leuks heb waarvan ik denk dat het echt iets is dat alleen maar op tv kan en niet op de radio, dan lijkt het me wel erg leuk."
Giel wil absoluut geen programma zoals zijn toekomstige collega Rob Stenders dat nu heeft op Tien (Talpa). "Van dat niveau gaat het echt niet zijn en als het wel zo is, dan stel ik voor dat ze een film uitzenden."