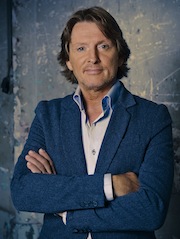 Erik de Zwart heef zijn contract bij Radio Veronica met een jaar verlengd. Hij blijft daarom ook in 2014 te horen bij de zender als dj en stationvoice. De Zwart presenteert dagelijks (ook in het weekend) van 12:00 tot 13:00 uur het 'Top 40 Hitdossier'.
De opzet van dat programma is trouwens wel iets veranderd sinds vandaag. Voortaan mogen luisteraars bepalen welke historische editie van de hitlijst Erik de Zwart doorneemt. Ze kunnen dit via internet doorgeven met daarbij de reden waarom juist die datum of 'Top 40' zo bijzonder is.
"Op 2 januari 2015 bestaat de Top 40 precies 50 jaar. Om dat jubileum nu alvast een beetje te vieren geef ik iedereen de kans een Top 40 aan te vragen die hoort bij een bijzonder moment uit zijn of haar leven; de geboortedatum van je kind bijvoorbeeld, of je trouwdag", aldus Erik de Zwart.