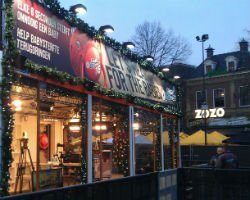 Het Glazen Huis van 3FM heeft 320.000 mensen in december naar Enschede getrokken. 44 procent van de bezoekers kwam uit Enschede zelf, 26 procent uit de rest van Twente en 30 procent uit de rest van het land. De negende editie van 3FM Serious Request was met een opbrengst van ruim 12,2 miljoen euro voor het Rode Kruis zeer succesvol, maar ook voor de middenstand in de Twentse stad was de opbrengst goed.
Winkels en horeca in Enschede hebben zo'n twintig miljoen euro omgezet tijdens de actie, schrijft pr-organisatie Enschede Promotie in een rapport. Driekwart van alle bezoekers is na een kijkje bij het Glazen Huis, ook de stad ingegaan om iets te eten of te drinken (10,2 miljoen euro) of om te winkelen (9,5 miljoen euro). Eerder werd al naar buiten gebracht dat er minimaal zeven miljoen euro omzet was voor de horeca en winkels.
De stad Enschede investeerde een kleine vier ton om 3FM naar de stad te krijgen. Volgens Enschede Promotie is de 20 miljoen euro een mooi resultaat in moeilijke tijden voor de binnenstad.