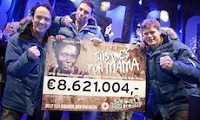 3FM heeft met Serious Request 8.621.004 euro opgehaald. Het geld gaat naar het Rode Kruis die er moeders mee helpt die geraakt zijn door oorlog. De dj's Coen Swijnenberg, Timur Perlin en Gerard Ekdom zaten sinds vorige week zondag in het Glazen Huis op de Beestenmarkt in Leiden en mochten niet eten. Zojuist kwamen ze eruit.
"Waar slaat dit op!", was de reactie van Coen. "Ik heb hier geen woorden voor. Dit komt ontzettend goed terecht, iedereen bedankt!", voegde Gerard eraan toe. "Ik heb alleen maar plaatjes gedraaid…", zei Timur.
Wilbert Mutsaers, zendermanager van 3FM, is uiteraard erg blij met het resultaat: "Niet alleen Leiden, maar heel Nederland deed alles om van 3FM Serious Request een groot succes te maken. We zijn zo verrast door de ontelbare initiatieven en steunbetuigingen in het hele land. Dat er opnieuw meer geld is opgehaald dan vorig jaar was geen doelstelling maar zien we als een steun in de rug vanuit het Nederlandse publiek dat aandacht vragen voor een stille ramp zinvol is en draagvlak in de samenleving kent. Dank aan iedereen die meehielp aan deze actie. Het was hartverwarmend. We kijken voorzichtig uit naar 3FM Serious Request in Enschede in 2012."
Vorig jaar was de eindstand 7.135.707 euro, in 2009 was dat 7.113.447 euro, maar dat was met een bijdrage van drie miljoen euro door de regering. Die bijdrage kwam dit jaar en vorig jaar niet. In 2008 werd er 5.637.937 euro opgehaald. In 2007 was dat 5.249.466 euro, in 2006 2.648.495 euro, in 2005 2.203.549 euro, in 2004 717.351 euro. Overigens is het bedrag van dit jaar nog niet compleet. In februari zal alles definitief opgeteld zijn.
Ook elders in Europa, onder meer in Zweden en België, leverden soortgelijke acties recordbedragen op. In totaal werd er zo'n 23 miljoen euro opgehaald.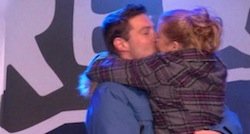 Om tien over half tien kwamen de dj's het huis uit, begeleid door zendermanager Wilbert Mutsaers van 3FM. Ze liepen door een haag van mensen naar de Lammermarkt. Na uitgebreid met hun vrouw, en vriendinnen gezoend te hebben (foto) stonden de dj's op het podium om de eerste hap in een appel te zetten.
Om 16:00 uur vanmiddag begon de eindshow op de Lammermarkt. Onder andere Kraak en Smaak, Armin van Buuren, Racoon, Waylon, DI-RECT, Guus Meeuwis en Gers Pardoel traden op. De achtste editie van 3FM Serious Request werd afgeloten met een twee uur durende liveshow op Nederland 3.
Elk jaar ontwikkelt zich een single tot een hit tijdens 3FM Serious Request. Dit jaar is dat 'Ode To The Bouncer' van de Studio Killers. Vorig jaar was het 'Hello' van Martin Sloveig & Dragonette. In 2009 was het Ryan Shaw met It Gets Better. In 2008 was het Verliefdheid Is Een Toverbal van Jordy van Loon. In 2007 was het Let's Dance To Joy Division van The Wombats. In 2006 waren The Fratellis met Chelsea Dagger favoriet, in 2005 was dat Multiply van Jamie Lidell. In 2004 werd door de drie dj's Galvanize van de Chemical Brothers plat gedraaid tijdens de actie.
Meteen na 3FM Serious Request is gestart met het uitzenden van alle verzoekjes die de afgelopen week zijn gedaan. Tot oudjaarsdag 18:00 uur is de 'Top Serious Request' te horen. De presentatie is in handen van de dj's die niet in het huis zaten, waaronder Michiel Veenstra, Barend van Deelen en Sander Guis.
Foto: 3FM/Rick Nederstigt