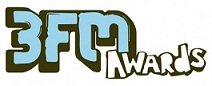 3FM heeft de nominaties voor de 3FM Awards bekendgemaakt. Grootste kanshebbers zijn Gers Pardoel met vijf nominaties en Go Back To The Zoo en Racoon met elk vier nominaties. Luisteraars kunnen hun stem uitbrengen via internet. Op 12 april worden de prijzen uitgereikt tijdens een awardshow in de Gashouder in Amsterdam.
De volledige lijst genomineerden is als volgt:
Beste band
Bløf
Di-rect
Go Back To The Zoo
Moss
Racoon
Beste zanger
Alain Clark
Guus Meeuwis
Marco Borsato
Tim Knol
Waylon
Beste zangeres
Caro Emerald
Eefje de Visser
Ilse DeLange
Krystl
Miss Montreal
Beste artiest pop
Caro Emerald
Guus Meeuwis
Ilse DeLange
Krystl
Racoon
Beste artiest rock
Destine
Di-rect
Go Back To The Zoo
Kensington
Within Temptation
Beste artiest alternative
Blaudzun
De Staat
Moss
Rats on Rafts
Spinvis
Beste artiest hiphop
De Jeugd van Tegenwoordig
Gers Pardoel
Kraantje Pappie
Lange Frans
Sef
Beste artiest dance
Afrojack
Armin van Buuren
Don Diablo
Kraak & Smaak
Tiësto
Beste single
Gers Pardoel – Ik neem je mee
Racoon – No mercy
Miss Montreal – Wish I could
Go Back To The Zoo – Smoking on the balcony
Kraantje Pappie – Waar is Kraan?
Beste album
Di-rect – Time will heal our senses
Gers Pardoel – Deze wereld is van jou
Racoon – Liverpool rain
Spinvis – Tot ziens, Justine Keller
Tim Knol – Days
Beste live act
Chef´Special
De Jeugd van Tegenwoordig
Go Back To The Zoo
Jungle By Night
Kane
Beste nieuwkomer
Anna Verhoeven
Chef´Special
Gers Pardoel
Kraantje Pappie
Pioneers of love