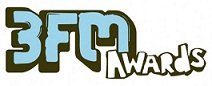 Zo'n 392.000 mensen hebben gisteravond de uitreiking van de 3FM Awards bekeken op Nederland 3. Dat blijkt uit gegevens van de stichting Kijkonderzoek. De live show vanuit de Gashouder in Amsterdam werd gespresenteerd door 3FM-dj Eric Corton.
Caro Emerald, Go Back To The Zoo, De Jeugd van Tegenwoordig, Krystl, Guus Meeuwis, Anouk, Bløf en Tiësto vielen in de prijzen.
Vorig jaar keken er 427.000 kijkers naar de 3FM Awards.