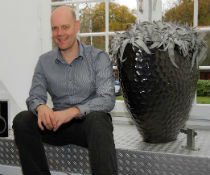 Het belangrijkste nieuws over een radiostation kwam dit jaar uit zijn koker, de overname van Radio 10. Herbert Visser begon 2013 als directeur van één radiostation en hij gaat het jaar uit met twee stations onder zijn beheer. Hij kreeg kavel A7 en nam daarna Radio 10 over. Daarom blikken we met hem op de laatste dag van 2013 terug op het radiojaar 2013.
Was 2013 een goed jaar voor de radio in Nederland?
Voor de radio in Nederland was 2013 een enorm goed jaar zelfs. Radio 10 keerde terug op FM waardoor opnieuw alle landelijke FM-pakketten nu weer volledig in gebruik zijn. Daarnaast hebben de landelijke commerciële radiozenders een belangrijke stap richting de toekomst gezet door afgelopen zomer in heel Nederland digitaal in de ether uit te gaan zenden via DAB+.

Die digititaliseringsslag bij de radio is een hele mooie ontwikkeling. Ook het oude vertrouwde medium 'radio' gaat immers met de tijd mee. Niet alleen middels vernieuwingen en verfrissingen in de programma's die de vele radiostations uitzenden, maar zeker ook in de manier waarop luisteraars naar radio luisteren. De analoge FM-radio blijft de komende jaren nog echt wel het belangrijkste apparaat waarop naar de radio wordt geluisterd (of het nu de FM-tuner, de transistor, de wekkerradio, de autoradio of de FM-radio in je smartphone is). Maar daarnaast krijgen luisteraars de beschikking over steeds meer apparaten waarop de radiostations digitaal kunnen worden ontvangen, en maken daar ook meer en meer gebruik van.

Digitaal radio luisteren kan thuis of op het werk via wifi via hele mooie, coole radio-apps op je tablet en smartphone, via de websites van de radiostations en via de zogenoemde portalsites, maar er zijn inmiddels ook hele volksstammen die hun flatscreen aan de muur net zo gebruiken voor het luisteren naar de radio, als dat ze er televisie op kijken. De kabelmaatschappijen als Ziggo en Caiway, IPTV-aanbieders als KPN, Tele2 en Vodafone en satellietaanbieder Canal Digitaal hebben met elkaar gemeen dat ze naast een uitgebreid pakket TV-stations, ook via datzelfde op de flatscreen aangesloten digitale ontvangstkasje een groot pakket radiostations aan hun klanten aanbieden. En als die klanten geen zin hebben in televisiebeelden maar wel leuke muziek op de radio willen horen, zappen ze net zo makkelijk van bijvoorbeeld RTL4 naar 100% NL. Willen ze de muziek van 100% NL met het liefst wel beelden erbij, dan kunnen Ziggo- en Delta-klanten sinds kort ook kijken naar 100% NL TV, maar da's weer een ander verhaal.

En sinds een klein half jaar kan er overal in Nederland, in ieder geval buitenshuis, ook digitaal via de ether worden geluisterd. Daarvoor is wel een nieuwe radio nodig die de DAB+ techniek ondersteunt. Maar automobilisten die zo'n ontvanger in de auto hebben, rijden nu al kriskras door Nederland zonder dat ze storingen ondervinden en kunnen naar meer radiostations luisteren dan op FM. De komende jaren zal het aanbod aan radiostations via DAB+ nog verder uitbreiden. Waar luisteraars vroeger alleen de FM-radio konden gebruiken voor het luisteren naar de radio, kunnen ze dat nu doen via hun 'device' naar keuze. Dat zie je ook terug in de luistercijfers. Volgens het meest recente Intomart-luistercijferonderzoek telde Nederland eind vorig jaar 12.9 miljoen mensen die minimaal eens per week naar een radiostation luisteren; eind dit jaar is dat aantal doorgegroeid naar maar liefst 13.5 miljoen. Dat zijn dus voor de hele radiomarkt 600.000 unieke luisteraars er bij in een jaar tijd. En bij mij heeft de mening postgevat dat dit vooral komt doordat de radiostations veel toegankelijker zijn geworden en je zelfs heel veel radio kunt luisteren zonder dat je überhaupt een FM-radio bezit.

We zijn nog maar een paar jaar verwijderd van het moment dat –weliswaar via allerlei verschillende devices als tablet, smartphone, digitale kabel en DAB+ radio – er meer digitaal zal worden geluisterd naar radiostations dan via de analoge FM. Het tijdperk van de analoge FM is nog niet voorbij, maar de oprukkende digitalisering biedt voor radio-ondernemingen veel nieuwe mogelijkheden en kansen.

Wat was voor jou het radiomoment van het jaar?
Eigenlijk is dat een heel recent moment, namelijk toen we begin deze maand met 100% NL nagenoeg de 1.9 miljoen unieke luisteraars per week aantikten. Voor ons is dat een absoluut record. Als commerciële radiozender doe je uiteraard je uiterste best om zoveel mogelijk mensen te bereiken, en als iedere week maar liefst 1.9 miljoen verschillende mensen bewust voor jouw radiostation kiezen en plezier aan je muziekprogramma's beleven, geeft dat een erg goed gevoel. Alleen was dat 'moment' niet op de radio zelf te horen.

Wat uiteraard wel op de radio te horen was, was het moment waarop we eindelijk officieel bekend mochten maken dat Radio 10 na een afwezigheid van tien jaar weer in heel Nederland op de FM te ontvangen zou zijn. Geruchten waren er tot dat moment volop, alleen kreeg niemand buiten onze eigen organisatie de bevestiging. Op 31 juli 's avonds laat was er na vier jaar ruis plotseling weer wat te horen op de FM-frequenties die behoren tot het zogenoemde 'kavel A7'-pakket. Vanaf dat moment draaiden we eerst 36 uur lang 'Everyone's a winner' van Hot Chocolate, en op 2 augustus om 10 uur had ik de grote eer om bekend te maken dat Radio 10 nu echt op FM zou terugkeren.

Wat was de grootste verrassing op radiogebied in 2013?
Voor velen zal het de terugkeer van Radio 10 op FM zijn geweest, maar wij waren er in beperkte kring al een dik jaar mee bezig geweest. Dus een verrassing was het niet. Wat ook geen verrassing was, was dat we bij de veiling van kavel A7 eerder dit jaar, de enige bieder bleken te zijn. De looptijd van de vergunning voor het FM-kavel A7 van slechts 4 jaar is echt veel te kort om er nog een nieuw radiostation mee in de markt te zetten. Voor een al bestaande zender als Radio 10 ligt dat uiteraard anders. Maar bestaande radiostations die nog niet landelijk op FM uitzenden en in staat zijn om de exploitatielasten van een landelijk FM-pakket te dragen; daarvan zijn er natuurlijk niet zo heel erg veel. Daarnaast bleken er sowieso geen serieuze partijen in de markt aanwezig te zijn die midden in een economisch crisisjaar miljoenen euro's wensten te steken in een ongewis radio-avontuur. Met 100% NL hadden we al een goedlopend radiostation met een solide organisatie erachter, dus voor ons was dat makkelijker. Maar indien wij ook maar in een iets andere situatie hadden verkeerd, zou ik een bod op de veiling voor kavel A7 ook niet hebben aangedurfd.

Op meer zakelijk gebied was de grootste verrassing in 2013 de komst van saleshuis One Media Sales (OMS). Verschillende concurrenten van elkaar, te weten Radio 538, Slam!FM, 100% NL, Radio 10, Sublime FM en Efteling Radio verkopen hun reclamezendtijd nu via één verkoopkantoor. De stations bepalen allemaal zelf hun tarieven, maar OMS maakt er één mooi pakket van en biedt dat aan aan adverteerders. Het is met name voor adverteerders veel efficienter om niet met allerlei verschillende zenders apart te moeten onderhandelen, maar in plaats daarvan één reclamebereik met een groot pakket af te kunnen nemen.

Heb je een doel voor jezelf in het nieuwe jaar?
Heel veel werken. Want dit jaar begon met de verhuizing van 100% NL vanuit ons oude pand in Hilversum naar Naarden, en eindigt met niet alleen nog een landelijk FM-station erbij ( Radio 10), maar ook een TV-station; 100% NL. Radio 10 moet weer terug naar waar het thuishoort, namelijk aan de absolute top van de Nederlandse radiomarkt. Dat zal binnen een jaar niet lukken, maar in 2014 wordt voor Radio 10 wel de weg er naar toe geplaveid. 100% NL was dit jaar een hele mooie, stabiele factor in radioland met marktaandelen van rond de 4.5%. Maar met hele goeie nieuwe Nederlandstalige popnummers die er aan zitten te komen in combinatie met onze frisse dj-ploeg, zou dat ook best wel eens wat hoger kunnen komen te liggen.

Wat verwacht je van 2014 op radiogebied?
Het wordt een heel interessant jaar. De komst van een radiostation in de landelijke FM-ether, naast de inmiddels vele digitale ontvangstmogelijkheden, begin je pas echt in de luistercijfers te merken als je al een half jaar bezig bent. Pas tegen de zomer zul je echt het effect beginnen te zien van de terugkeer van Radio 10 op FM.

Wie is er in november 2014 marktleider?
Ik ben heel slecht in voorspellingen. Radio 538 is het nu, en de kans is uiteraard aanwezig dat 538 het volgend jaar rond deze tijd nog steeds is.
Lees alle '2013 bekeken door…' terug in ons dossier