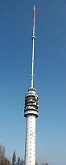 De zenders die Broadcast Partners (BP) in beheer heeft op de zendmast in IJsselstein (Lopik) zullen pas in januari weer op hun oude niveau uitzenden. Onder andere de publieke radiozenders, Q-music en BNR kunnen pas weer op volle sterkte uitzenden als antennes op de mast vernieuwd zijn. "Eerst dient de bovenste antennehelft te worden hersteld", meldt Broadcast Partners. "Naar verwachting is dit in november gereed. Zodra het zover is, kan daar naar worden overgeschakeld en vervolgens wordt de onderste antennehelft vernieuwd. Pas als dat gereed is, wordt weer met 12 antennelagen van elk 4 paneelantennes uitgezonden. De voorlopige prognose is, dat dit in januari gereed zal zijn."
De zendmast in Wieringermeer lijkt op die in IJsselstein. Daarom werd ook daar met lager vermogen uitgezonden, maar dat is nu achter de rug. "Inmiddels is ook in Wieringermeer vastgesteld dat er met de installaties van BP niets mis is en is ook in Wieringermeer het vermogen inmiddels weer volledig terug naar het oude niveau", aldus de zenderoperator.
Afgelopen week werd ook bekend dat de zendmast in Hoogersmilde pas eind 2012 weer gebruikt kan worden.
Schuld
Na de branden in de zendmasten van IJsselstein en Hoogersmilde op 15 juli kwam al uit een onderzoek dat de brand in IJsselstein zou zijn ontstaan in de installaties van Broadcast Partners en dat vocht de oorzaak zou zijn. Deze uitlatingen in de media werpt het bedrijf ver van zich af.
"Broadcast Partners staat op het standpunt, dat zolang deze zaken niet onomstotelijk vastgesteld zijn geen uitspraken over schuld of onschuld gedaan kunnen worden. Hetgeen dienaangaande in de pers verschijnt, laat zij voor rekening van degenen die daarvoor verantwoordelijk zijn, soms een van de betrokken partijen, soms de media zelf, die zich voor de kar laten spannen of kennelijk gewoon een spannende uitleg willen geven."
Sabotage
De zenderoperator wil alle onderzoeken afwachten, maar speculeert over sabotage. "Het is natuurlijk zeer opmerkelijk, dat de twee branden nagenoeg gelijktijdig plaatsvinden. Als je aan kansberekening doet, dan ligt sabotage nog het meest voor de hand, maar daar is tot nu toe geen enkele aanwijzing voor gevonden. Eenzelfde technische oorzaak voor beide, vrijwel gelijktijdige branden is nog veel minder waarschijnlijk, als je de kans berekent. We weten het dus gewoon (nog) niet."