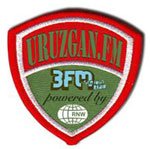 Vanmiddag om 16:00 uur heeft 3FM-dj Annemieke Schollaardt voor het eerst de uitzending van Uruzgan.FM gepresenteerd. Elke werkdag zal ze het programma voor militairen op vredesmissie in Uruzgan en andere delen van de wereld presenteren.
Annemieke Schollaardt is geselecteerd uit dj's uit de interne opleiding van 3FM. "Ze is jong en fris, en haar 'good looks' zijn mooi meegenomen. Dat is leuk voor de jongens als ze de website bekijken," aldus een woordvoerder. Annemieke werkt voor de TROS en is naast de dagelijkse uitzending van Uruzgan.FM ook nog regelmatig te horen in de nachtprogrammering van 3FM, daarnaast is ze sinds kort stationvoice van 3FM.
Voorafgaand heeft Schollaardt zich verdiept in de leefwereld van militairen, zo vertelt ze in de Brabants Dagblad. "Als je af en toe een typisch militair woord gebruikt, weten de jongens en meiden daar tenminste dat we geen stelletje sukkels zijn dat geen idee heeft wat zich daar afspeelt."
De uitzendingen zullen vooral gevuld zijn met entertainment en verzoeknummers. "We maken een relaxt programma voor de troepen die in een tamelijk gevaarlijke omgeving hun werk doen en voor hun achterban in Nederland. Vooral ontspannend, spanning is er voor de jongens en het thuisfront al genoeg," aldus Annemieke die in haar programma onder meer spelletjes speelt met als prijs cd's en stroopwafels. "En dan maar afwachten hoe ze aankomen." Verder staan er op het militaire kamp een aantal hot phones die worden gebeld tijdens de uitzending, wie er op neemt is dagelijks weer de vraag.
De redactie van Uruzgan.FM heeft in principe alle vrijheid, er gelden slechts 'operationele veiligheidsmaatregelen'. "In de uitzendingen noemen we geen achternamen of woonplaatsen om te voorkomen dat de tegenstander de familie in Nederland lastig valt. Ook mogen de jongens niet vertellen er 'nu een konvooi de poort uitrijdt' of dat er onlangs een granaat nèt een paar meter naast de eetzaal is ingeslagen," zo vertelt projectcoördinator Peter Veenendaal.
Voor de uitzendingen is overigens een speciale, tijdelijke studio op het Mediapark gebouwd. Het programma wordt elke werkdag tussen 16:00 en 17:00 uur Nederlandse tijd uitgezonden en daarna twee maal herhaald. Om vijf uur 's ochtends en zeven uur 's avonds wordt 'Nieuwslijn' van de Wereld Omroep uitgezonden. De rest van de dag worden de uitzendingen van 3FM doorgegeven. In Nederland zijn de uitzendingen te volgens via diverse lokale omroepen en een internetstream, daarnaast wordt het programma dagelijks als podcast aangeboden.