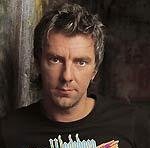 BNN dj Ruud de Wild viert vandaag zijn 10-jarig jubileum op de radio. De dj viert dat in zijn 3FM programma Ruuddewild.nl met met bitterballen, vrienden, vage kennissen, oude fragmenten en plaatjes uit de oude doos. Te gast zijn onder andere Lex Harding, Erik de Zwart, Gerard Timmer, en Rohan, die ooit co-host in het programma was. Daarnaast zal er nog een mystery guest komen.
De stem van Ruud als disc-jockey was voor het eerst te horen bij het illegale station City FM in Hilversum. Daarna stapte hij over naar Digitaal FM, het Radio 538 van toen.
In 1989 begon hij als magazijnmedewerker bij een grote computerleverancier en schopte het in korte tijd tot verkoper. In die tijd kwam hij in contact met Rick van Velthuysen die hem vroeg om wat produktiewerk voor zijn AVRO-programma te gaan doen. Ruud ging op dit aanbod in en besloot, naast zijn werkzaamheden voor de computerleverancier, in de weekenden en in de avonduren deze nationale radio-ervaring op te gaan doen bij de AVRO.
Tijdens een vakantie kwam Ruud vervolgens bij een Spaanse TV-productie bedrijf terecht. Hij deed daar ervaring op en ging aan de slag als "Free Lancer". Na enige omzwervingen bij verschillende nationale omroepen kwam hij uiteindelijk bij de KRO terecht.
Op 20 november 1992 kwam Ruud in contact met Lex Harding. Lex wilde Ruud oorspronkelijk inlijven als producer maar Erik de Zwart (programma-leider bij Radio 538) vroeg hem ook een bandje te maken. Met als gevolg dat hij een maand later als disc-jockey bij Radio 538 te horen was en weer een week later als zijn eigen programma had: 'De 53N8′. Daarna moest Ruud iedere doordeweekse ochtend vroeg zijn bed uit voor zijn programma 'the jungle' en op vrijdagavond was Ruud druk met 'Wild in het Weekend'. Hij was ook wekelijks te zien met het rock programma 'Wet and Wild' bij The Music Factory op televisie.
Na een ruzie met zijn vroegere baas Erik de Zwart zit hij nu bij BNN en maakt op 3FM samen met Jeroen Kijk in de Vegte en Sander de Heer zijn programma Ruuddewild.nl.