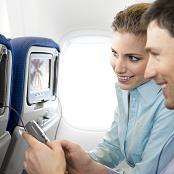 Als je met KLM of Transavia naar een vakantie of zakelijke bestemming vliegt kun je ook radio luisteren. Een geselecteerd aantal zenders is op grote hoogte te beluisteren met een inflightprogramma. RadioFreak.nl zocht uit hoe dit werkt.
KLM laat weten dat in het algemeen de radiostations hen benaderen om een programma voor ze te maken en dat soms KLM een station vraagt dit te doen. De stations leveren iedere twee maanden een programma aan wat in de vliegtuigen te horen is. De stations moeten zich wel aan een aantal richtlijnen houden. Zo mogen er geen scheldwoorden, discriminerende teksten of andere zaken die passagiers zouden kunnen beledigen of bang maken inzitten. 538 laat in een reactie weten dit geen probleem te vinden: "Sowieso gaan de mensen op vakantie en wil je gewoon een feelgood playlist hebben. Dus vaak staan er ook een paar zomerse nummers in."
Voor Transavia, waar 538 en Q-music te horen zijn, moeten de uitzendingen bij een Iers bedrijf worden ingeleverd. De uitzendingen mogen maximaal 90 minuten duren. Technisch is een langere uitzending niet mogelijk. Na de 90 minuten start de uitzending opnieuw.
Alle stations gebruiken het eigen format als basis voor het inflightprogramma. Alle zenders hebben een Non-stopprogramma gemaakt en volgens Jan Willem van Dorssen van Arrow Classic Rock is dat heel logisch: "Er luisteren Chinezen, Amerikanen, Duitsers, etc.. Dan is dit het beste." Naast muziek zijn er alleen jingles van de zenders te horen, "nee, geen commercials".
Naast een service naar de passagiers toe is het ook een manier om je station te promoten. 538 laat weten: "Het is goed om met je merk aanwezig te zijn op plekken waar mensen muziek luisteren. Dus ook in het vliegtuig. En je komt daardoor ook weer in het boekje van de vliegtuigmaatschappij te staan wat weer goed is voor je marketing."
Foto: KLM