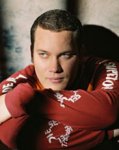 In het kader van 90's Request op Radio 3FM gaat dj Paul Rabbering vanmiddag tussen 14:00 en 16:00 uur terug naar de Happy Hardcore tijd van de jaren '90. Speciale gast dit jaar is hitkanon dj Paul Elstak.
Het is al de vierde keer dat er een HAKKÛH!-dag plaatsvindt in RabRadio. Tijdens voorgaande jaren waren onder andere Charly Lownoise, The Party Animals en Duncan Stutterheim te gast.
Paul Elstak is een hardcore dj, producer en labeleigenaar. Hij verwierf landelijke bekendheid door zijn happy hardcorehits uit 1995 en 1996 zoals 'Luv u more', 'Rainbow in the sky' en 'The promised land'.
Tijdens Woensdag HAKKÛH! dag draait Paul Rabbering happy hardcore plaatjes en interviewt Elstak. In deze speciale radio uitzending zal ook het Happy Hardcore intro spel worden gespeeld. Inzet is een gesigneerd prijzenpakket van Paul Elstak.