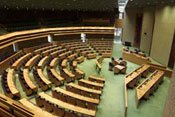 Na de val van het kabinet van gisteren is het volledig onduidelijk hoe het met de nieuwe omroepplannen van Medy van der Laan zal gaan. De ex-D66-staatssecretaris stapte gisteren samen met haar colelga D66-bewindslieden uit het kabinet. Ook over de rest van het media- en telecombeleid dat onder ex-minister Laurens Jan Brinkhorst van economische zaken viel, is onduidelijkheid.
Bij de Publieke Omroep is men niet rauwig om het niet doorgaan van de plannen. "Er vloeien hier geen krokodillentranen", aldus een woordvoerder.
Koningin Beatrix moet nu besluiten of het kabinet demissionair wordt, of dat er een lijmpoging wordt ondernomen. CDA en VVD zouden dan als minderheidskabinet verder kunnen. In beide situaties is het vrijwel uitgesloten dat moeilijke vraagstukken zoals de omroepplannen nog behandeld worden voor de verkiezingen, die nu ook vervroegd zijn.
Zolang de nieuwe Mediawet niet ingevoerd is, zullen de etheruitzendingen van de publieke tv ook door moeten gaan, omdat dit in de oude wet vast ligt. Ook het plan om een meer gegarandeerde financiering voor lokale omroepen te krijgen is voorlopig van de baan.