Kink FM is sinds de start van het jaar bezig om het station wat aan te passen. Wijzigingen in de programmering, een hele kleine wijziging in het muziekformat en een marketingcampagne. Genoeg reden dus om eens langs te gaan bij het enige alternatieve radiostation van Nederland.
Het is een normale vrijdagavond in het Audiocentrum op het Mediapark. In het verleden was dit onder meer de thuishaven van 3FM, tegenwoordig zitten naast het Instituut voor Beeld en Geluid en de Fonotheek enkel Kink FM en de Veronica Radioschool nog in dit gebouw. In de mooie digitale studio van Kink FM presenteren Mark van der Molen en Frank van 't Hof 'Avondland'. Na een rondleiding door het Audiocentrum spraken we met Arjen Grolleman, de man die sinds dag één bij de zender werkt en, sinds het vertrek van Jan Hoogesteijn vorig jaar, het station runt samen met Jantien van Tol.
We beginnen het gesprek twee jaar geleden, bij de verdeling etherfrequenties. "Als radiostation moest je destijds door een onderzoeksbureau een rapport opstellen waarin je aantoonbaar maakte dat je in afzienbare tijd geld kon gaan verdienen. Daarnaast moest je laat zien dat als je voor een ongeclauseerd kavel ging, in ons geval alternatief, dat je dan ook alternatieve muziek ging draaien. En dat je dat natuurlijk allemaal had onderzocht, dat hadden we; we hadden gewoon de beste kaarten."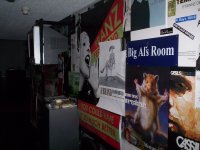 Wat niemand had verwacht gebeurde echter toch: Veronica bood niet op de radiofrequenties. "Bij Veronica televisie werd er destijds in korte tijd ontzettend veel geld doorheen gejaagd. Dat zag iedereen. Maar in ieder geval: het geld was op een gegeven moment op. Toen kwamen er twee troubleshooters, een week voordat de etherfrequentie aanvraag moest worden ingediend. Die hebben alles koud gezet waarvan ze niet wisten wat het betekende of waarvan ze dachten dat het geld absorbeerde. Helaas deden ze dat ook met Kink FM en dat vond ik een vreselijke beleidsfout. Maar achteraf zie je maar weer hoe men kan spreken van een gelukje bij een ongelukje; we staan er nu goed voor, en je weet nooit of er met etherfrequenties onverwachte gekke dingen waren gebeurd."
Uiteindelijk is vorig jaar Kink FM door de Vereniging Veronica financieel veilig gesteld. "De Vereniging Veronica vindt dat men een heleboel van de oude Veronica-spirit bij ons kan terugvinden. We hebben allemaal een grote liefde voor muziek en radio. Het is ook niet een zender waar veel geld in omgaat. Ze hebben uitgesproken dat ze heel graag met ons verder willen en dat ze er alle vertrouwen in hebben. We moesten vervolgens zelf beslissen of we er voor wilden gaan, want zonder etherfrequenties blijft het toch een vrij marginale zender. We hebben toen de doelstelling neergelegd om de zender te behouden en toch ook keihard te gaan werken aan ons marktaandeel. In dat opzicht hoop ik dat we in de toekomst heel erg kunnen inspelen op digitale distributie. Dat doen we nu al een beetje met internet en de podcasts. Ook draaien er inmiddels twee extra streams, Classics en Aardschok, waardoor we nog meer direct op de wensenvan de luisteraar in kunnen spelen."
"We zijn als eerste gaan kijken naar de programmering. Daar was de afgelopen twee jaar eigenlijk bijna niets aan gebeurd, we deden maar wat. We hadden eerst overdag non-stop en 's avonds een aantal doelgroepenprogramma's. We dachten dat we met de etherfrequenties een dijk van een programmering zouden kunnen neerzetten. We zijn toen eigenlijk een beetje blijven zwemmen en hadden niet echt een vast omlijnd doel op het gebied van de programmering. Nu zijn we de boel langzaam aan het opbouwen: overdag op elk tijdstip een goed, eigenzinnig programma en we houden vast aan de doelgroepenprogramma's in de avonduren om alle Nederlandse subculturen te blijven bedienen."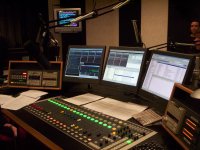 "Qua muziek is er niet zoveel veranderd, er is nog geen vijf procent aan andere muziek bijgekomen. Het was een hele wispelturige zender, met veel stromingen dwars door elkaar en dat vermoeide enigszins, het was wat moeilijker beluisterbaar. We willen nu iets jonger met één gouwe ouwe per uur en minstens 50 procent nieuwe muziek. Ik probeer nu wat meer uit met populairdere muziek die we eerst niet draaiden in een hele lage rotatie, om te kijken of dat werkt. Het kan best zijn dat we daar al snel weer mee stoppen. Maar ik vind dat je bij radio eerst moet luisteren, voordat je kunt horen of het werkt. In ieder geval moeten we gewoon altijd blijven doen waar we goed in zijn, en dat is het draaien van alternatieve plaatjes."
Om het marktaandeel omhoog te krijgen start de zender onder leiding van Jantien van Tol met een marketingcampagne. "We gaan met de advertenties die we de komende tijd onder meer in tijdschriften en dagbladen plaatsen allereerst kleur bekennen," zo vertelt Jantien terwijl ze een kleurrijke advertentie voor het programma 'NightLiveXS' laat zien. "Het ziet er allemaal wat vrolijker en toegankelijker uit en we hopen daarmee een breder publiek te bereiken. Mensen denken vaak dat we een wat sombere, duistere metalzender zijn, terwijl we die muziek slechts zijdelings draaien. We draaien gewoon hele leuke plaatjes, alleen het zijn geen hitradio liedjes. Wel richten we ons op iedereen die wat meer geïnteresseerd is in bijvoorbeeld albumtracks of nieuwe stromingen binnen de muziek. We gaan nu adverteren in de Nieuwe Revu, Metro, Veronica Magazine en op MTV en niet meer alleen in OOR en LiveXS. Ook nieuw is op zaterdagmiddag een nieuwe albumlijst, de Droomlijst, die we uitzenden in samenwerking met platenspeciaalzaak Van Leest."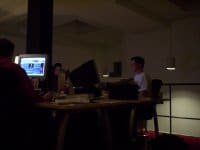 Tot slot duiken we met Arjen Grolleman nog even de geschiedenis van Kink FM in, terug naar hoe het begon. "Veronica wilde voor 1995 uit het publieke bestel, achteraf in vele ogen een moedig besluit, want bij de publieke omroep zit je gewoon goed, daar is altijd geld. Maar ze gingen commercieel en konden, omdat ze niet meer gebonden waren aan de zenders van de publieke omroep, daardoor allerlei radiostations oprichten. Men dacht: de sky is de limit, dus laten we al onze hobby's exploiteren. Er kwam dus ook een alternatief station bij en dat werd Kink. Men had er toen niet op gerekend dat geen van de zenders succesvol zou worden, omdat men er vanuit ging dat alles wat Veronica deed zou veranderen in goud, zo was het immers altijd geweest. Maar ja, zonder al die mooie gratis publieke etherfrequenties viel het toch niet mee. Na een jaar werden we toen afgestoten door de HMG en heeft de toenmalige voorzitter Joop van der Reijden de tent overgenomen voor een gulden. We hebben veel aan hem gehad: hij was onze beschermheer, en heeft voor ons zeer veel betekend. Vervolgens zijn we toen doorgegaan als vrijwilliger, eerst was het een non-stop zender en toen ben ik na twee weken weer begonnen met het maken van een programma. In de loop der jaren hebben we aanvankelijk vanuit een volledig vrijwillige basis de programmering steeds verder uitgebreid."
"Dan was er natuurlijk nog het aspect van de verhuizingen: we hebben in al die jaren noodgedwongen meer tijd besteed aan het in- en uitpakken van dozen dan aan het maken van programma's. Alleen al op het Lapersveld in Hilversum hebben we 3 verschillende studio's gehad. Daarna zijn we naar Amsterdam verhuisd, naar een oude sigarenfabriek vlakbij de Dam. Daar hebben we nog een andere studio gebouwd, waar het nieuwe Radio Veronica is begonnen. Vervolgens is het hele zootje weer terug verhuisd naar Hilversum, naar het oude AVRO-pand aan de 's Gravelandseweg, waar we twee mooie studio's hebben gebouwd met het oog op de etherfrequenties. Toen die niet kwamen verhuisde Radio Veronica naar Naarden, en Kink FM naar een andere lokatie in datzelfde pand. Dat werd een noodstudio, die we daarna hebben verhuisd naar het Audiocentrum. Daar hebben we tenslotte onze huidige studio gebouwd. Ik hoop echter wel dat we daar voorlopig kunnen blijven, het werd echt tijd om eens aan het station zelf te gaan werken."
Na afloop van het interview komt er slecht nieuws. Beschermheer en oud-voorzitter Joop van der Reijden is op 79 jarige leeftijd overleden.

Eén van de nieuwe kleurrijke advertenties van Kink FM