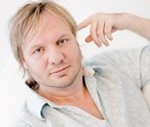 Katja Schuurman en Sophie Hilbrand hebben een rol bemachtigd in Stenders The Movie, de verfilming van de autobiografie van 3FM-dj Rob Stenders. Katja speelt de moeder van Stenders. Sophie Hilbrand neemt de rol van sidekick en radioproducent Margreet van Gils over van Froukje de Both, die is afgehaakt.
Regisseur Ramon Etman (Horizonica) werkt aan een scenariobewerking van het boek Stenders Eetvermaak van de dj. In het boek beschrijft Stenders uitgebreid zijn grillige carrière en zijn confrontaties met diverse omroepbazen. De opnames van de film moeten later dit jaar plaatsvinden.
Andere acteurs die hun medewerking hebben toegezegd zijn Humberto Tan, George Baker, Geert Hoes, Fátima Moreira de Melo en Thomas Berge. Het is nog niet duidelijk wie Stenders gaat spelen. Stenders The Movie moet volgend jaar in première gaan op het Nederlands Film Festival.