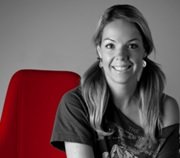 In de rubriek 'Hoe is het met?' interviewen we dj's die niet meer op de landelijke radio te horen zijn, maar dat voorheen wel waren. Deze week met: Patricia van Liemt.
De radiocarrière van Patricia van Liemt start in 2006 bij 100%NL. Ze presenteert samen met Dave Donkervoort de ochtendshow van de zender. Vanaf oktober 2010 tot en met augustus 2013 is Van Liemt de sidekick van Jeroen van Inkel in de middagshow 'Van Inkel in de Middag' op Q-music. Van Liemt stopt na augustus 2013 bij Q-music, om met haar gezin emigreren.
Wat doe je nu?
"Ik had drie dromen. De eerste was werken bij de landelijke radio, de tweede was een boek schrijven en de derde droom was een eigen zaak. Met die laatste ben ik nu bezig. Ik heb een eigen tassenlijn ontworpen en deze komt binnenkort uit. Uiteraard blijft het creatieve en rebelse van de radio heel dicht bij me, vandaar dat mijn bedrijf ook 'Public Nudity' heet."
Waarom ben je niet meer op de landelijke radio te horen?
"Ik heb eigenlijk wel meer dan 3 dromen, want een andere droom is 1,5 jaar geleden in vervulling gegaan: ooit wilde ik in mijn leven een keer emigreren. Je spullen oppakken en naar een ander land verhuizen. Je wereldbeeld vergroten, grenzen laten vervagen en andere mensen ontmoeten. Dat is gelukt. Ik woon tegenwoordig in Zürich, wat echt een geweldige ervaring is. Maar ik zou liegen als ik niet zou zeggen dat ik mijn collega's van Q music soms enorm mis. But: 'Sometimes you have to give up the good, to go for the great'."
Wat was je leukste radiomoment?
"Mijn leukste radiomoment was toen ik het verzoek binnenkreeg van Hans Kazan. Hij was on tour en bood zichzelf aan om langs te komen. Tja… beetje saai vonden Jeroen en ik eigenlijk, maar Jeroen zegt altijd: 'Radio is the theater of the mind'!  Dus hadden we bedacht dat Hans Kazan Jeroen zou kunnen laten verdwijnen. En toen ging onze fantasie met ons op een loopje. Wie zouden we dan achter de microfoon zetten? We hebben alle BN-ers de reveu laten passeren die middag op de redactie.
Tot de briljante naam viel van Giel Beelen. Aangezien Jeroen en Giel goede vrienden zijn en Giel wel van een grapje houdt, was het snel geregeld. Maar niemand bij Q-music wist het, we wilde er echt een verrassend radio moment van maken. Dus ging Giel via de brandtrap bij Q-music naar binnen. Alles lukte en het werd super leuke radio. Ik heb samen met Giel een half uur lang de middagshow op Q gepresenteerd. Hoe gek was dat! Luisteraars melde zich massaal via de sms dat ze het een steengoeie stunt vonden."
Is er een kans dat we je weer landelijk gaan horen?
"Radio is en blijft mijn grote liefde en ondanks mijn eigen zaak ben ik er nog altijd elke dag mee bezig. Ik luister, lees en hoor het liefst zo veel mogelijk radio. En mocht ik ooit weer in Nederland gaan wonen, dan sluit ik het zeker niet uit dat ik weer bij de radio ga werken! Sterker nog, ik word er al blij van als ik er aan denk."
Naar welke dj en welk station luister je nu graag?
"Ik luister graag naar al mijn oude collega's. Er zijn een hoop overgewaaid naar Radio 2. Verder ben ik als radiomeisje natuurlijk ook de zap-prinses. Noem het beroepsdeformatie. Ik zap tegenwoordig de hele wereld over met mijn DAB+-radio. Maar het leuke van het wonen in het buitenland is ook de lokale radio. Hier in Zwitserland zijn ze ook radiogek. Goede zenders, leuke formats, veel luisterplezier voor mij dus."
Heeft de radio nog toekomst?
"Zeker! Radio zal alleen moeten blijven innoveren. Wat maakt live radio bijzonder? Waarom luister je naar de radio en niet naar je Spotifylijstje? Dat soort vragen zullen de grote radiobazen zichzelf constant moeten blijven stellen. Mensen zullen altijd ergens bij willen horen. Dat zit nu eenmaal in ons ingebakken. Dus je moet van je station een community maken. Een plek met dj's, muziek en acties die de luisteraar aanspreken en waar je bij wilt horen."