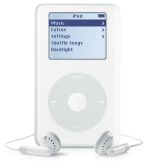 Het onderhandelen over podcasts bij de publieke omroep duurt nog altijd voort. Twee maanden geleden verdwenen veel radioprogramma's van het internet. Alle publieke omroepen moesten 'opeens' duizenden euro's extra per radioprogramma per omroep aan de muziekindustrie betalen. Beloofd werd dat er snel afspraken zouden worden gemaakt om de zaak op te lossen.
Ondertussen is bijvoorbeeld 'Met Het Oog Op Morgen' (NOS, Radio 1) wel te horen als podcast, maar dan zonder muziek. Een slepend conflict over de kosten van de muziekrechten tussen de omroepen aan de ene kant en de vertegenwoordigers van de muziekindustrie aan de andere kant is de oorzaak. De NVPI en de SENA, die zich allebei bezig houden met het innen van het rechtengeld dienden in september een voorstel om deze zaak te regelen.
Volgens Wouter Rutte van de NPVI zit het vast op het feit dat de publieke omroep de organisaties geen inzage kan geven in de hoeveelheid programma's en de muziek die in de podcasts te horen is. Met de commerciële omroepen zijn wel goede afspraken gemaakt. Rutte: "Daar is het eenvoudiger, dat is maar een zender. Bij de publieke omroep doen er zoveel omroepen mee. We hebben er begrip voor dat het een hele tijd duurt voordat die gegevens bij ons binnen zijn."
Dat de crux zit bij het aantal deelnemende omroepen zit, wordt bevestigd door de woordvoerder van de NPO, Jeroen Wassenberg. "Dat is inderdaad een deel van het probleem. We zijn afhankelijk van het materiaal dat de individuele omroepen moeten aanleveren." Wassenberg stelt wel dat het goed is dat de gesprekken nog voortduren, maar dat 'het een weerbarstig dossier is'.
Om claims van de SENA en NVPI te voorkomen, archiveren de meeste omroepen zolang de onderhandelingen gaande zijn de radioprogramma's niet. Of ze halen de muziek eruit, zoals nu gebeurt bij Met het oog op morgen. Daar zijn alleen de eerste noten van een liedje te horen voordat de presentator of de presentatrice weer te horen is.
Hoelang de gesprekken nog gaan duren en de podcasts niet worden aangeboden, kunnen de partijen niet zeggen. Maar de NVPI verwacht dat als de omroepen met de cijfers over de archieven komen er tariefafspraken kunnen worden gemaakt. "Als het materiaal er is, kunnen we er snel uit zijn." Wassenberg: "Er is aan het begin van de onderhandelingen al gezegd dat het lang kan gaan duren." [ND]