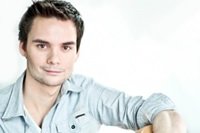 3FM-dj Domien Verschuuren presenteert zijn radioprogramma zondagochtend samen met zijn moeder. Vanwege moederdag is moeder Lilian eenmalig te horen als side-kick in 'Domien Is Wakker'.
"Wat doe je als je op Moederdag een ochtendprogramma op 3FM presenteert en je dus niet bij je moeder een ontbijt op bed kunt brengen? Dan haal je je moeder naar de studio!" aldus Domien Verschuuren.
De hele uitzending van het ochtendprogramma, tussen 7:00 en 10:00 uur, zal in het teken staan van Moederdag. Zo zijn er Moederdagprijzen te winnen en wordt het spel 'Battle of the mothers' gespeeld, waarin twee moeders het tegen elkaar op nemen.