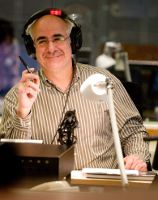 Frits Spits start zaterdag 4 januari 2014 met De Taalstaat op Radio 1. De Taalstaat is een magazine over taal en wordt iedere zaterdag tussen 11:00 en 13:00 uur uitgezonden. "In De Taalstaat vertellen we hoe het met de taal gaat", zegt Spits.
In het nieuwe Radio 1-programma is er veel aandacht voor taalnieuws en actuele ontwikkelingen rond taal en de trends en veranderingen worden besproken. Spits is erg enthousiast over De Taalstaat: "Een radioprogramma over taal is er nog niet en het sluit goed aan bij mijn liefde voor taal. Het wordt een taalgevoelig en muzikaal programma waarin we ook aandacht aan het Nederlandstalige lied besteden. We praten vooral over mooie en lelijke taal, dat is voor mij belangrijker dan of het taalgebruik goed of fout is."
Spits ontvangt wekelijks gasten die affiniteit met taal hebben en er zijn vaste rubrieken van o.a. taalwetenschapper René Appel en Ton den Boom, hoofdredacteur van de Dikke Van Dale . NRC-cartoonist Ruben L. Oppenheimer maakt wekelijks een radiocartoon voor het programma. Acda en De Munnik maken de programmatune.
De Taalstaat is iedere zaterdag van 11:00 tot 13:00 uur op Radio 1.
Foto: Wim Kluvers