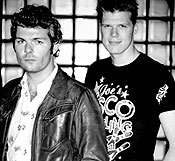 Het 3FM-middagprogramma De Coen & Sander Show staat op 10 juni in het teken van boybands. Coen Swijnenberg en Sander Lantinga presenteren dan tussen 16:00 en 18:00 uur de 'Boyband Top 17'.
Luisteraars kunnen voor de lijst stemmen op hun favoriete jongensgroepen. De verwachting is dat onder meer Backstreet Boys, 5ive, Boyzone, NSYNC, East 17 en Take That terug te horen zullen zijn in de lijst.
"Zijn we als mannen niet allemaal jaloers geweest op Nick van The Backstreet Boys of Jason van Take That? De hele wereld aan je voeten, gillende vrouwen en strakke dancemoves", aldus Sander Lantinga.