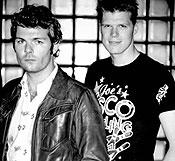 Coen en Sander gaan met hun 3FM-programma mee met Jan Smit naar Frankrijk. Smit is daar samen met de 3JS en Kees Tol voor het televisieprogramma De Zomer Voorbij.
De twee dj's waren in 2010 en 2011 al te gast in het programma. Na twee jaar als gast worden ze nu toegevoegd aan de harde kern als vervangers van Nick en Simon die een jaartje overslaan. De Coen en Sander Show vanuit La France is vanaf vandaag tot en met woensdag 29 augustus te horen op 3FM.
De reis staat bekend om vriendschap en mooie muzikale momenten. Met iedere dag optredens van gasten als Waylon, Lange Frans, Racoon, Go Back To The Zoo en Yes-R. De Volendammers en 3FM-dj's sluiten met deze vakantie de zomer af! Coen: "Met onze Volendamse vrienden in Frankrijk voel ik me frank en vrij". Sander: "We zijn blij dat ze na Nick en Simon eindelijk een leuk duo hebben uitgekozen".