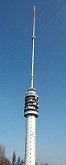 Dat de brand in de zendmast van IJsselstein (Lopik) is ontstaan in de installatie van Broadcast Partners noemt Alticom, eigenaar van de betonnen toren van de zendmast, "ongeloofwaardig". "Dikke professionele kabels vatten niet uit zichzelf vlam. Toch heeft NOVEC op basis van die suggestie maatregelen genomen", zegt Ed Boerema van Alticom in NRC Handelsblad.
Momenteel zenden de zenders van onder de publieke omroepen en Q-music in IJsselstein maar uit op tien procent van hun toegestane vermogen. NOVEC, eigenaar van de zendmast, wil pas toestaan dat het vermogen verhoogd wordt als er uitgebreide veiligheidsmaatregelen worden genomen. KPN, dat volgens de partijen dezelfde diensten aanbiedt als BP met dezelfde soort kabels, wordt niet belemmerd.
Volgens directeur Robert-Jan van der Hoeven zijn er inmiddels warmtemeters geïnstalleerd. Maar volgens hem vindt NOVEC dat niet voldoende. "Steeds houden ze ons een hoepel voor", zegt hij in de NRC. "Daar springen we doorheen, maar dan volgt weer een hoepel. NOVEC is niet duidelijk en motiveert haar maatregelen niet. Dat is te wild voor woorden. Over alternatieven die minder belastend zijn voor de radiostations wil men niet praten." NOVEC doet zelf nergens iets aan de brandveiligheid, zegt Van der Hoeven.
Broadcast Partners heeft inmiddels een rechtszaak aangespannen tegen NOVEC. Die zaak dient donderdag. Ondertussen klagen de radiostations. "Het verbaast mij zeer hoe moeizaam de reparaties gaan", zegt Cees de Bruin, directeur distributie van de Nederlandse Publieke Omroep (NPO), in het NRC-artikel. "Wij missen een onderbouwing van de maatregelen. Iedereen wijst naar elkaar. En het resultaat is erbarmelijk."
Torenbeheerder Alticom vroeg al in 2007 meer aandacht voor de veiligheidsprocedures in de masten. Directeur Boerema: "Voor werkzaamheden in onze torens gelden uitgebreide procedures. Elk gat dat wordt geboord om kabels te trekken wordt professioneel gedicht en daarna nog eens gecertificeerd. Ik denk dat zulke procedures in de zendmast ontbreken."
De omroepen en BP willen dat de overheid gaat optreden. Van der Hoeven: "Je kunt je afvragen of het staatsbedrijf NOVEC de markt waarin het opereert wel begrijpt en of de overheid niet eens moet ingrijpen in dit monopolie. De politiek kan zich niet langer afzijdig houden."
NOVEC is in het NRC-artikel niet om een reactie gevraagd. Het bedrijf heeft altijd aangegeven geen 'tweede Smilde' te willen. Daarnaast zegt het bedrijf ook dat de brand is ontstaan in de installaties van Broadcast Partners. Daarnaast zegt NOVEC dat er pas weer op vol vermogen uitgezonden kan worden als het onderzoek naar de brand in IJsselstein is afgerond. Volgens NOVEC werkt Broadcast Partners niet altijd even goed mee aan de onderzoeken.