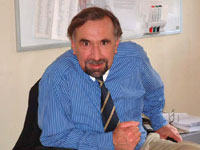 Arend Langenberg is gisterochtend boos weggelopen bij de uitzending van Patrick Kicken op Radio Veronica. De nieuwslezer was iets te laat in de studio. De dj draaide daarop een 'pauzemuziekje', uit de film Turks Fruit. Kicken vroeg daarop of Arend dat wist. Maar hij weigerde daar antwoord op te geven.
"Ik weet het niet en wil er ook geen antwoord op geven. Schei nu even uit met dat gelul, stelletje aso's. Ik word gek" Daarop zei Kicken: "Je bent echt geïrriteerd hè?"
Uiteindelijk had de nieuwslezerer geen zin meer in en ging hij weg. "Weet je wat?…." En weg liep hij. Of het echt was of in scène gezet, is niet bekend.
Update
Het bleek allemaal om een grapje te gaan. Arend Langenberg had het bedacht om de nieuwe sidekick Jan Paparazzi 'te ontgroenen'. "Nou, mij had hij ook mooi bij de neus", stelt Patrick Kicken nu. "Alleen producer Bas ontving tijdens Arends toneelstukje op de radio een knipoog. Arend hou dit vol, spannende radio! (en lekkere publiciteit)."