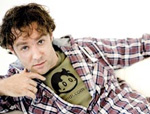 "Een hoogtepunt van mijn carrière!" Zo noemde nieuwslezer Peter de Vries gisteren de Peter de Vries dag die door 3FM-dj Sander de Heer georganiseerd was. 62 Peters kwamen naar het Mediapark in Hilversum. Tussen 07:00 en 12:00 uur vierden zij de eerste Nationale Peter de Vries dag.
In de radiostudio konden de Peter de Vriesen onder meer genieten van een optreden van de Peter de Vries band, een speciale cocktail proeven gemaakt door Peter de chef-kok en natuurlijk ook hun andere naamgenoten ontmoeten.
Vooraf hadden 112 Peter de Vriesen zich aangemeld op een speciale website. Na afloop was het voor Sander wel genoeg. "Ik kan geen Peter de Vries meer zien!" Of er ook een vermelding in het Guinness book of records in zit is niet bekend.